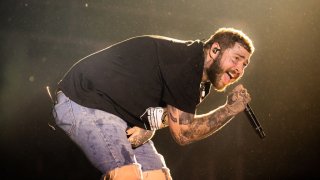 Posty Fest, Post Malone's hometown music festival, is returning in 2021 to Arlington this fall.
Who's performing at Posty Fest?
On September 16, Malone announced the festival's lineup, which includes performances by himself, Megan Thee Stallion, Tyga, Lil Uzi Vert, Jack Harlow, and many more.
In addition to music, the festival will include carnival rides, games, monster trucks, prizes and giveaways.
When is Posty Fest?
The rapper and singer announced the third annual Posty Fest will take place exclusively outdoors outside of AT&T Stadium on Oct. 30-31.
The festival, first launched in 2018 at the Dos Equis Pavilion before moving to AT&T Stadium in 2019, was canceled in 2020 due to the COVID-19 pandemic.
How do I get tickets to Posty Fest?
Even though this is the third time for the event, Posty Fest 2021 will be the first one that lasts for two days.
Based on the past festivals, tickets for Posty Fest could sell out sooner rather than later.
In 2018, tickets sold out with around 18,000 people attending at the max capacity Dos Equis Pavilion.
Then in 2019, with the move to AT&T Stadium, over 40,000 people attended, according to the festival's figures.