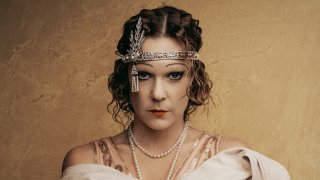 Catherine D. DuBord is making her theatrical dreams come true, producing a show she has loved since she was 16 years old in not one, but two countries.
The Dallas actor launched a new theater company, Belle Sauvage and its first production, The Last Flapper by William Luce and adapted by DuBord, runs June 1 – 11 in Theatre Too at Theatre Three. In August, DuBord will take the one-woman play based on the letters and writings of Zelda Fitzgerald to Scotland for the Edinburgh Fringe Festival.
"The pandemic really allowed me plenty of time to assess where my career was and how I wanted it to grow when we came back. There was a lack of roles available for Equity actresses in my category when we came back because everyone was tightening their budgets," DuBord said. "So, I decided to take the bull by the horns and create my owns work and a show I'm extremely passionate about."
Producing and starring in the company's first production is DuBord's primary focus.
"As a first-time producer, producing across two continents is a lot as the first one out of the gate," DuBord said. "Ultimately, I'd like to see if there's more life for The Last Flapper after returning from Scotland.
Zelda Fitzgerald's story has intrigued DuBord for years. She was born in the house around the corner from F. Scott Fitzgerald's home on Summit Avenue in St. Paul. As DuBord developed her own artistic career, Zelda Fitzgerald's life resonated with her even more.
"I was devastated at how she was treated. As a female artist myself, imagining what that must have felt like to not be able to use her voice and to share her work with the world," DuBord said.
Lydia Mackay is directing the show, helping DuBord prepare the show for Dallas and Scotland.
"I'm finding Zelda through the play," Mackay said.
Set in a mental hospital, the play explores the complicated life of Zelda Fitzgerald, from her days as a Southern belle to her chaotic marriage to novelist F. Scott Fitzgerald to her mental health issues.
"The more I uncover about her, the more fascinated I become and the more I draw parallels to female artists even still in this day and age in 2023," Mackay said. "It is a very relevant story about how the fierceness and vitality with which women live and express themselves is far too often suppressed and tamped down to make other people comfortable."
While Fitzgerald endured countless medical treatments, she lacked bodily autonomy.
"She has absolutely no say," DuBord said. "With what has gone on in the world, especially in the last year, it is about women's right to choose about her medical choices. It is her own body and her mind, and they were forcing these treatments on her, some of which she did not need. That just makes my skin crawl."
Although Fitzgerald spent almost half of her life in a mental hospital, she continued to create art. Her writings and paintings were dismissed during her lifetime and only appreciated in the 1970s following the publication of Nancy Milford's Zelda: A Biography. Her artistic output, particularly her paintings, impresses Mackay.
"There are so many dimensions of her story. She was obviously a writer, a dancer, a great thinker, but to see her artwork, that to me is stunning. It's beautiful, beautiful work," Mackay said.
DuBord and Mackay will travel to Scotland in August. The show will run Aug. 4 – 19.
"It has been a bucket list kind of thing for me as an artist," DuBord said.
DuBord went to the Edinburgh Fringe Festival last year to see how one of the world's largest arts festivals works. She discovered the show's venue, Greenside at Riddle's Court.
"It's right off the Royal Mile. There's a couple of bars attached to it and there's three spaces within the location that we are in so there will be nice foot traffic, so we'll see!" DuBord said. "It's a dice roll. Whether it's for a full house or three people, I'm doing the show."
DuBord has adapted the show for the festival's format. Artists have 10 minutes to set up their play, 50 minutes to perform, and another 10 minutes to dismantle the set. The Dallas performances represent what will be presented in Edinburgh.
"The Theatre Too production is going to be very paired down. It's a desk, a chair, a stool, two lamps and very few props. And that's going to be perfect honestly because it's a story about her. It's a story about Zelda. We don't need all the other things necessarily to tell the story," Mackay said.
This will be Mackay's first trip to the festival and to Scotland.
"I'm looking forward to all of it. I'm looking forward to the work of it. I'm looking forward to the play of it. I'm looking forward to seeing Catherine on that stage for that audience," Mackay said.
DuBord marvels at how Edinburgh triples in size with artists and people who love the performing arts. She is eager to soak up the atmosphere.
"Seeing where other people's passion is is really invigorating," DuBord said. "It gives me hope for the future of theater."
Learn more: Belle Sauvage