Everything is bigger in Texas, including the economic impact of North Texas' arts and cultural industry.
According to a national economic impact study conducted by Americans for the Arts, "Arts & Economic Prosperity 5", the North Texas region generated $1,473,366,015 in annual economic activity.
Of the 341 regions and communities who participated in this study, the North Texas cultural industry ranks as the third largest in the nation, following Washington and Philadelphia and supports 52,848 full-time equivalent jobs. New York and Los Angeles did not participate in the study.
The economic impact of North Texas' cultural industry more than tripled since the 2012 study.
"I wasn't surprised because we could see how much the arts have grown," Katherine Wagner, CEO of Business Council for the Arts, said. "I wasn't shocked; I was vindicated."
The Business Council for the Arts gathered data from the 2015 fiscal year, revealing specific trends.
"I think part of it is that we have more activity from arts organizations themselves. It's organizations coming online, but it is also organizations themselves being stronger. They are spending more and their audiences are spending more," Wagner said.
In the 2012 study, residents living within the county spent on average $20 on an event, not including ticket price. In this new study, county residents spent $30. Out-of-town visitors spent on average $70 on an event in addition to the ticket price.
The study highlights an attractive quality of the region for businesses considering a move to North Texas.
"You can have quality of life for your employees. Not just that, but it is proven that the arts, especially certain kinds of arts education, creates stronger minds. When they are looking at bringing employees from another strong cultural center like New York or Los Angeles, those employees can know their children will have an advantage here. If they are looking for opportunities to engage in the community or give to the community, there's so many ways to do that through the arts," Wagner said.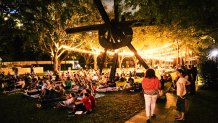 Dallas' cultural industry generated $97 million in revenue to local and state government.
"My budget is just over $20 million so that right there helps me justify it," Jennifer Scripps, the director of Dallas' Office of Cultural Affairs, said. "When we look at incremental return on investment, this helps us make our case."
As the city drafts a new cultural plan, the study provides information about the cultural community's growth.
"We knew we were sitting on a fast-growing part of our economy, but now we know how fast it is growing. We also know how fast other cities are growing. So how do we continue to be vibrant to attract the workforce of the future? How do we think about investments in the small arts organizations and neighborhood arts in the Arts District to continue to make it visitor-friendly with all of the amenities we still need? Those kinds of investments will be part of our cultural plan," Scripps said.
The study reflects the significant development of the Dallas Arts District, including an increase in high quality public programming and events in the district, free entrance at the Dallas Museum of Art, free Block Party events in the district, and increased circulation from Klyde Warren Park and the Perot Museum of Nature and Science.
"Economic activity alone has tripled in five years from $128.6 million to $395.8 million, validating the district is a great investment," Lily Weiss, the executive director of the Dallas Arts District, said.
The Dallas Arts District's new master plan includes improving connections to downtown and making the district a walkable neighborhood.
"The economic impact numbers for the Dallas Arts District will allow us to maximize the potential of the master plan and realize its vision: 'Developing an urban cultural district that creates a vibrant, healthy, and complete neighborhood for generations to come'," Weiss said.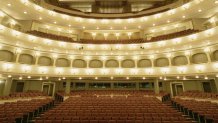 Fort Worth's cultural industry generated $450,630,818 in economic activity and over $55 million in state and local government revenue.
"The Fort Worth arts community has made great strides in making arts venues accessible and partnering with businesses to weave arts experiences into everyday activities. Arts organizations large and small continue to find new and exciting ways to connect with audiences of all ages and all walks of life," Karen Wiley, the president and CEO of the Arts Council of Fort Worth, said.
Keeping the momentum moving forward requires continued engagement with the public. "Communication is the key. We will continue to advocate for the arts and build strong alliances across the board," Wiley said.
Meeting audience expectations may determine the growth of North Texas' cultural industry. "Understanding that our audiences are only getting more and more savvy so the ability to maintain this growth is about product. It's about the ability to delight and amaze," Scripps said.
Copyright FREEL - NBC Local Media