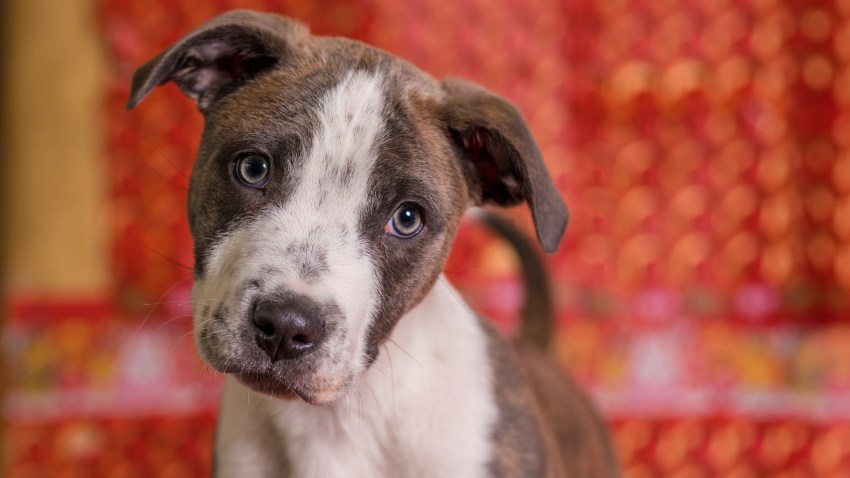 The Crow Collection of Asian Art's 19th annual Chinese New Year Festival has gone to the dogs. 2018 is the Year of the Dog and the museum is celebrating all things canine with an indoor free festival on February 17 at NorthPark Center from 11 a.m. – 7 p.m.
People born in the Year of the Dog are believed to be loyal, playful, just and friendly. This year's Earth element adds a grounded, calm quality to that personality. There is no better ambassador for Year of the Earth Dog than Moon, the three-month-old puppy the Crow Collection is fostering in a partnership with the SPCA of Texas. Currently 15 lbs, the German Pointer mixed with a Pitbull is a smart, playful lapdog. Alyssa Arnold, the Crow Collection's Director of Programs and Engagement, selected his name.
"He looks like the moon. He's kind of gray, he's got some craters and his eyes are gray. It ties well to the Lunar New Year, which is what we're celebrating," Arnold said. "He looks like a moon-man, doesn't he?"
The Crow Collection is training Moon to be a good pet and helping him find his forever home. Moon has already learned to sit on command and play fetch. He primarily lives with Arnold and her four dogs, but he comes into the office a couple of times a week.
"The staff really likes it. Everyone has gotten accustomed to it already. They come down and have puppy time and decompress during the day," Sara Kern, the Crow Collection's PR and Marketing Manager, said.
Moon will make an appearance at the festival with Arnold and the SPCA of Texas to promote the fostering program and pet adoptions. The SPCA of Texas will be on-site with adoptable pets who are spayed/neutered, microchipped, vaccinated and ready to join a loving family. Students from Booker T. Washington High School for the Performing and Visual Arts will turn a photo of a favorite canine into artwork by creating a Doggie Doodle, a quick black and white sketch.
"I think the Doggie Doodles is going to be really fun. The students we're partnering with are really excited about it as well," Adrienne Lichliter, the Crow Collection's Manager of Art Studio Education and Public Engagement, said.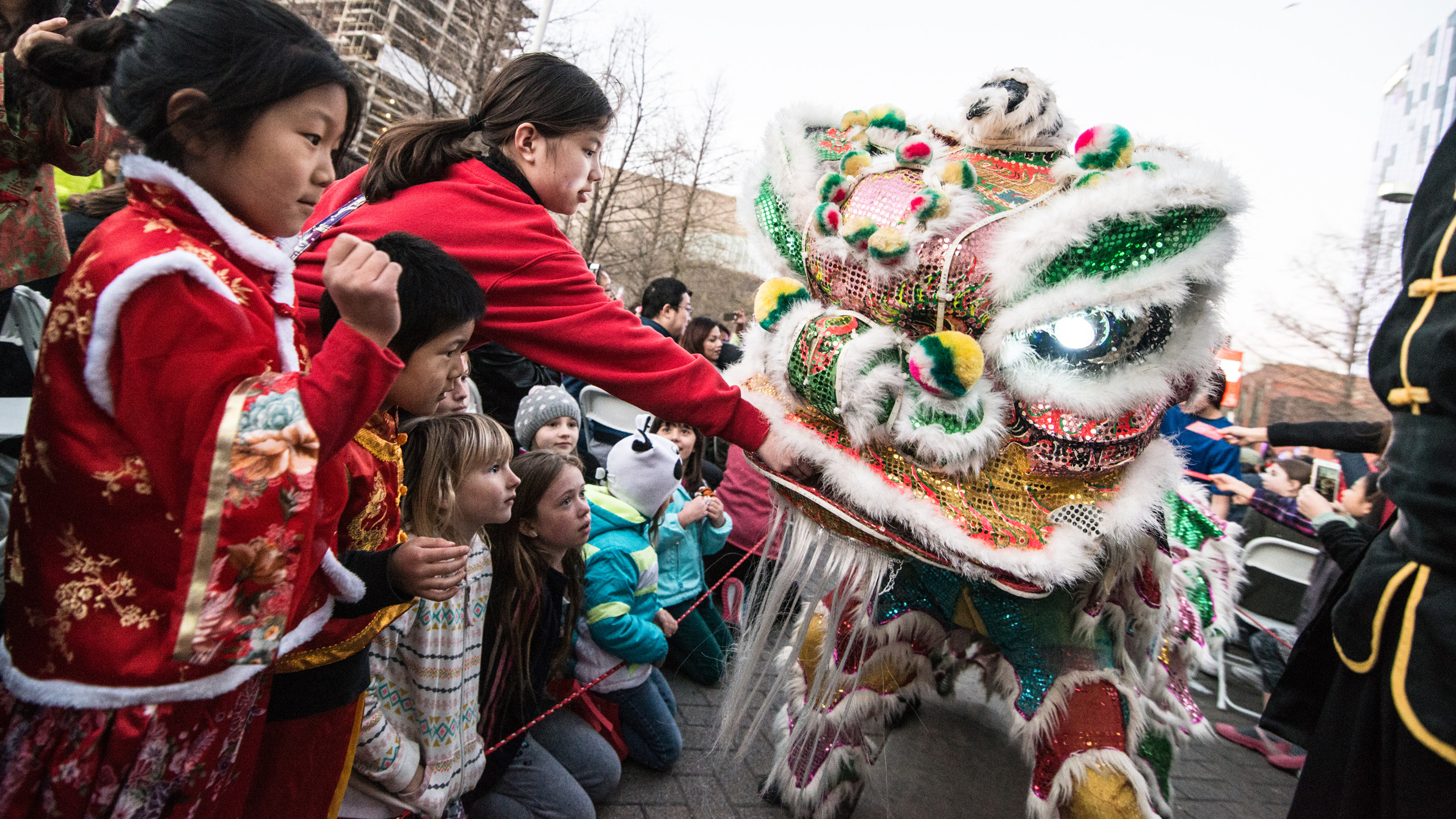 Performances include dragon and lion dances by Lee's White Leopard Kung Fu School, Julia Zhu's Bian lian face changer performance, and Jasmine Chinese Dance Troupe. In addition to roaming lion dances throughout NorthPark Center, the Rising Phoenix Lion Dance Association will present an acrobatic lion dance.
The Wishing Tree, a collaboration between the Crow Collection, Make Art with Purpose and artist Jin-Ya Huang, returns for a second year. Visitors are welcome to write wishes for the new year and hang it on this interactive sculpture.
The festival also will feature a traditional Chinese Opera performance and family art activities such as making red envelopes, toy firecrackers, zodiac finger puppets and dog masks.
The North America Chinese Qipao Society will present a Qipao fashion along with traditional Chinese dances. At 2 p.m., there will be a live giveaway of NorthPark Gold and prizes from NorthPark retailers.
Dallas Symphony Orchestra musicians Bing Wang, Shu Lee, Christine Hwang and Nan Zhang will perform traditional Chinese folk music contrasted with American music with Chinese themes. The performance includes "Joy of Spring", a traditional Chinese New Year piece; "Lover's Transformation into Butterflies", a piece based on a legend referred to as the Chinese version of Romeo and Juliet; "Dry Weather Thunder", a Chinese Cantonese folk song; and the Finale from Dvořák's "America".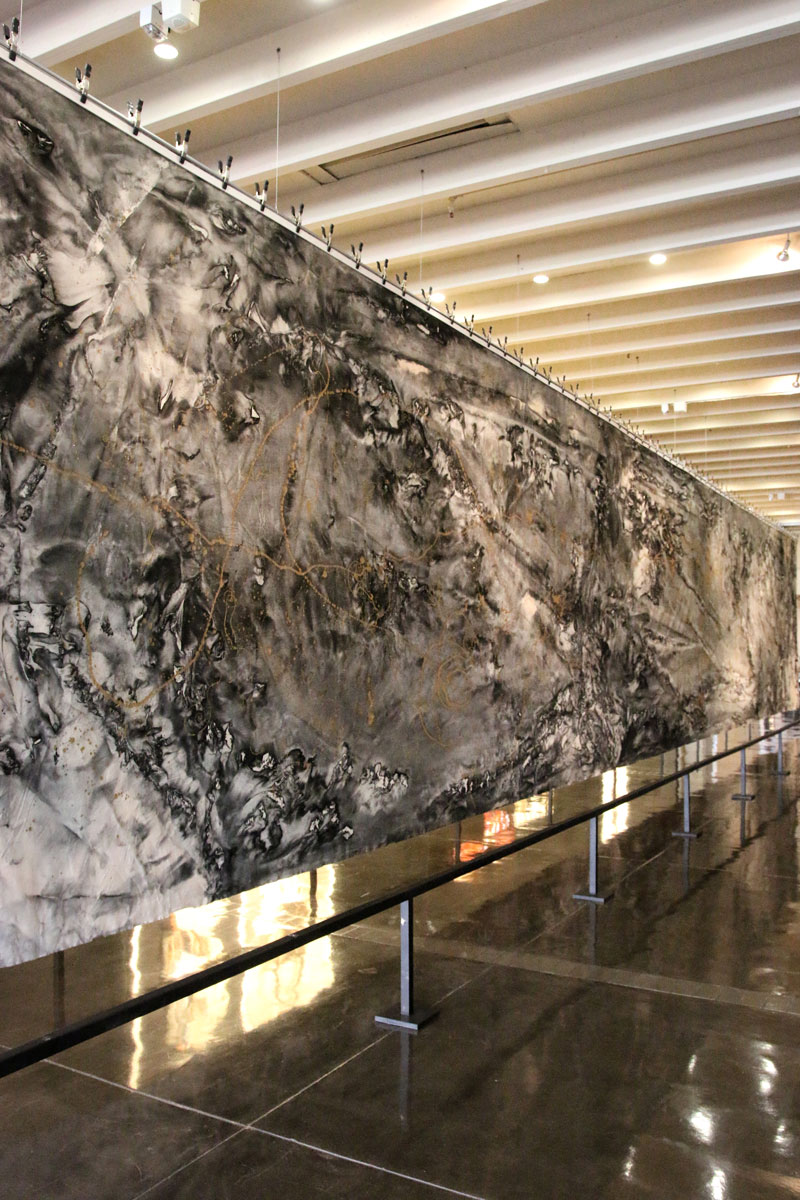 "It's a hallway, a long, long hallway. What can we do with this long hallway? It was truly organic in how it came about," Arnold said. A guided tour will be given on the day of the festival and the painting will be on display through March 21.
The festivities will conclude with Lee's White Leopard Kung Fu School's illuminated lion and dragon dances. "We have a tendency to want to do things bigger and better every year," Lichliter said. "We keep making things more exciting each year."
Copyright FREEL - NBC Local Media