Edward Steichen's mural series, In Exaltation of Flowers, proves friendship can withstand the test of time. From 1911 to 1914, the photographer, painter and master gardener created a mural series depicting his circle of avant-garde artist friends. After an exhibition in 1915 at the Knoedler Gallery in New York, the seven canvases were never displayed together – until now.
After a summer-long conservation treatment, the Dallas Museum of Art (DMA) will showcase the mural paintings from September 5, 2017 through May 28, 2018. "It's a really big reveal," Sue Canterbury, The Pauline Gill Sullivan Associate Curator of American Art at the DMA, said.
Eugene and Agnes Meyer commissioned the work for the foyer of their townhouse on Park Avenue. The Meyers were part of Steichen's close-knit group of friends, including Katharine Rhoades, Marion Beckett, Isadora Duncan and Mercedes de Cordoba.
The friends visited Steichen's home, Villa L'Oiseau Bleu, near Voulangis, France. Visitors admired Steichen's beautiful garden where he cultivated hybrid flowers and his friends took on floral personifications. Those personifications are woven into the murals.
"It brings so many things together. Aside from just a mural series that is decorative, it is portraiture, it is biography, and there's bits of iconography going on. It brings in his love of flowers and his home at Villa L'Oiseau Bleu," Canterbury said.
A financial crisis resulted in the Meyers leaving their Park Avenue townhouse before the murals were installed. After the 1915 exhibition, six of the seven murals were rolled up and stored. A private collector brought the murals to the DMA's Paintings Conservation Studio.
"The paintings are in remarkable condition, considering they are 102 years old," Laura Eva Hartman, the DMA's Associate Paintings Conservator, said.
After unrolling and gradually stretching the murals, Hartman and her team of four interns from the Winterthur/University of Delaware program will begin cleaning the murals. "The next step in treatment will be surface cleaning and there's barely any paint loss," Hartman said.
The most significant conservation issue looks like a white haze on sections of the murals.
"At some point in their life when they were in storage, there was probably a humidification issue, too much moisture or they were in contact with water which caused mold to grow. The good news is it is not an aggressive mold so it hasn't actually etched the surface or eaten through the layers and it's very easy to remove," Hartman said.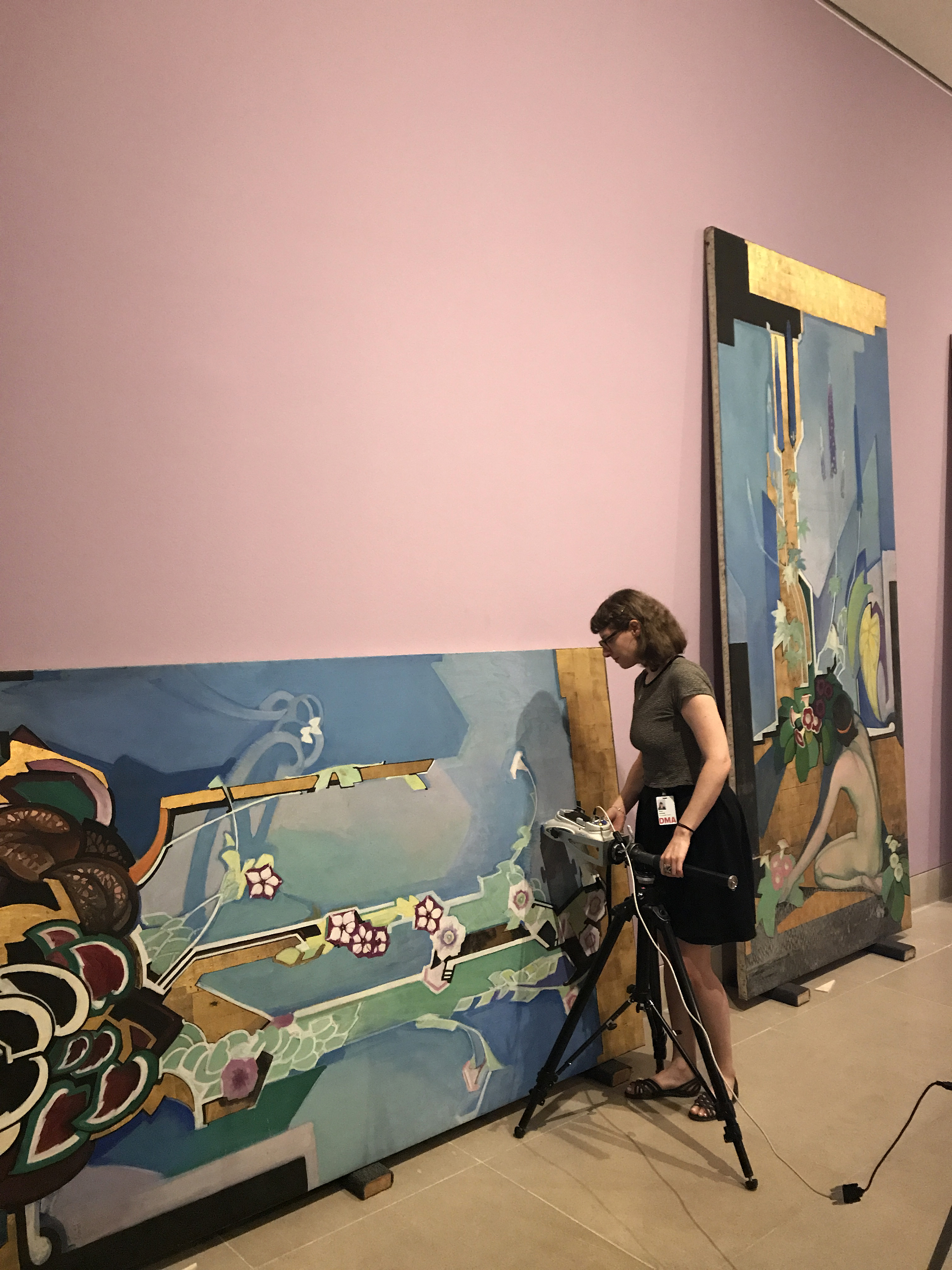 Hartman's team is using x-ray fluorescence to learn more about Steichen's materials.
"You can do point analysis," Hartman said. "It looks just like a ray gun. It does no harm to the paint. It's a non-destructive, non-invasive analytic technique and what it will tell you is that at the point where you shoot it, it will give you the elemental composition of that area."
The conservation team will take tiny samples and look at a cross-section of the work to understand how Steichen built up the paint layers and identify the type of paint he used. The team has been comparing the personal history of the subjects of the murals to better understand Steichen's intentions and techniques.
In a mural, Agnes Meyer is depicted with a dark orb around her head. Before her marriage, she was a reporter for The New York Sun and often went to galleries, including Alfred Steiglitz's gallery, 291. 291 featured Steichen's work and Steiglitz nicknamed Meyer the "Sun Girl".
"In 1913, about when this was made, Agnes wrote Steiglitz. She's pregnant, she's depressed, she can't get out to the galleries, she feels like she's not in the center of things. She said, 'I am now your Eclipsed Sun Girl.' So if you look around the perimeter of that orb, you can see the yellow. I'm wondering if originally it wasn't intended to be eclipsed, because I do think there is gold leaf under there," Canterbury said.
"If we didn't have this historical information, there's a chance that it could have been misinterpreted as tarnish or corrosion of some sort. I think it's a really beautiful example of why we work so closely with our curatorial colleagues when we're doing these types of technical examinations and treatments," Hartman said.
Canterbury is unraveling the details of the friends' relationships.
"Figuring out who people are or why were the flowers associated with them is more of a challenge. How I'm approaching it in the introductory panel is it is like an inside joke. It was only discernible to the people of the circle what was going on," Canterbury said.
These murals give a glimpse into these treasured friendships. "When we have them all together, what happens is you feel like you're in a room with the actual people," Hartman said. "It's a personal series. It feels personal."
CLICK HERE to learn more about conservation at the Dallas Museum of Art.

Kimberly Richard is a North Texan with a passion for the arts. She's worked with Theatre Three, Inc. and interned for the English National Opera and Royal Shakespeare Company. She graduated from Austin College and currently lives in Garland with her very pampered cocker spaniel, Tessa.
Copyright FREEL - NBC Local Media