April is Dallas Arts Month, a month dedicated to hailing the city's artistic vitality.
"This month, let's celebrate our city's vibrant arts and culture scene, but let's also continue to work together to further elevate our city's artistic profile and make Dallas a place that no artist and art enthusiast can afford to miss," Dallas Mayor Mike Rawlings said.
At the Dallas Museum of Art, Dallas Arts Month is an opportunity to investigate the career of Los Angeles-based artist Laura Owens.
Organized by the Whitney Museum of American Art, New York, the mid-career survey features approximately 60 paintings reflecting Owens' artistic development over more than 20 years. Owens grew up in Ohio and moved to Los Angeles to launch her art career.
"When she showed up in L.A., the last thing in the world you wanted to be in L.A. if you were an intelligent artist in the early 1990's was a painter. Painting was thought to be over, sentimental, conservative. In a kind of ironic way, being drawn to good-old fashioned painting on canvas gave her a lot of space, a lot of freedom to explore ideas," said Scott Rothkopf, the Whitney Museum's chief curator and organizing curator of this exhibition.
Rothkopf, a Dallas native, interned at the Dallas Museum Art in 1995 when he was a senior at Greenhill School.
Owens' interest in her artwork's relationship to space and architecture, her feminism, a playful interaction between avant-garde and kitschy pop art, and experimentation with technical invention. Her early work features trompe-l'oeil techniques and paintings often complement each other and their environs. Pieces sold to different individuals are reunited in this exhibition.
"One of the interesting things about this show is the opportunity it has to bring back together works that were meant to be in dialogue with each other," Rothkopf said.
The heart of the exhibition features works from the beginning of the new millennium and represents Owens' personal metamorphosis.
"You get a sense that at this time in her life, she was very open to exploring a lot of things that were happening to her, things happening in the world. During this period, she fell in love, had children. She was very concerned about America going to war," Rothkopf said. Paintings from this period reflect intimacy, romance, and aggression.
Owens challenges the art world to reconsider what is categorized as serious art by combining high and low references. One painting – all her work is untitled -- showcases more animals than can be counted.
"She's always playing with that edge of something that seems like a joke, but also serious. And then she makes you wonder, 'Why couldn't a serious painting be full of animals or remind you of a child's card book or a decorative screen from the 19th century?'" Rothkopf said.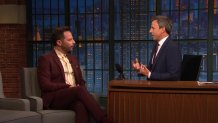 One exhibition room is filled with three sets of identical bedroom sets in varied color schemes designed by Jorge Pardo with Owens' paintings on the walls.
"She, in her witty way, starts playing around with the palate. So she starts making the paintings to match the furniture which is a no-no in the art world. You don't buy a painting to match your couch," Rothkopf said.
The paintings feature whimsical bees that look as if they are made out cake frosting, a reference to "the birds and the bees" and the intimate nature of the bedroom.
Owens' most recent works reflect an adventurous investigation with materials and techniques.
"Around this time, Laura really started pushing herself further in a lot of ways in terms of how to build a surface of the picture," Rothkopf said. By layering unexpected materials such as buttons, embroidery and paint mixed with sand, Owens works with collage, silk-screening, drop shadows, and digital manipulation to produce large-scale paintings.
Visitors can interact with certain paintings on view in the Concourse by texting a comment or question and the paintings, outfitted with a sound component, will respond.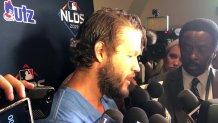 To complement the exhibition, Owens and Rothkopf created a 664-page catalogue weaving together Owens' writings about her work, her sources as well as personal correspondences and commentary from fellow artists and friends.
Owens created 8,500 silkscreen covers for the catalogue that acts as an alternative exhibition. Like many of her paintings, the personal publication is presented with a playful twist on the benches scattered throughout the exhibition.
"She designed these great cushions as a way where you can hang out and read these books," Rothkopf said.
MORE: Laura Owens is on view through July 29

Dallas Arts Month continues through April, with conversations about Dallas' arts community including the Mayor's Creative Conversation at 6 p.m. on April 9 at Moody Performance Hall and Arts Advocacy Day at noon on April 17 at the Latino Cultural Center. CLICK HERE to learn more about these events and a variety of arts activities.

Copyright FREEL - NBC Local Media