Eleven years after she first took on the role of Bette Davis, Morgana Shaw returns in All About Bette: An Interlude with Bette Davis which begins its tour in the Dallas/Fort Worth area.
For Shaw, playing Davis is an unexpected calling.
"The only thing I knew about Bette Davis before I took this on was that I had been told that I had Bette Davis eyes for a long time and I named my cat Bette Davis," Shaw said. "I had this being said about me years before Jac Alder called me and put this script in front of me."
The script by Camilla Carr and Jac Alder, Theatre Three's late Executive Producer-Director, introduced her to the role in 2006.
Playwright Camilla Carr sent Alder the script for his opinion. Alder decided to produce the show in Theatre Too, Theatre Three's smaller theater.
"What was extraordinary was when Jac said, 'I think we should do the play here and I have the actress,'" Carr said. "In comes this young lady, we looked at each other and we just kind of fell into each other's arms. She was better than great. She is so extraordinary in everything that she does, but she is truly an extraordinary Bette."
Positive reviews of the show drew the attention of Michael Jenkins, seven time-Tony Award winning producer of Starlight Entertainment and Managing Director Emeritus of Dallas Summer Musicals.
Jenkins saw the show in Theatre Too and decided to option this show for future productions. Jenkins' Starlight Entertainment is producing the tour in collaboration with Dovetayle Productions, LLC and Giant Entertainment.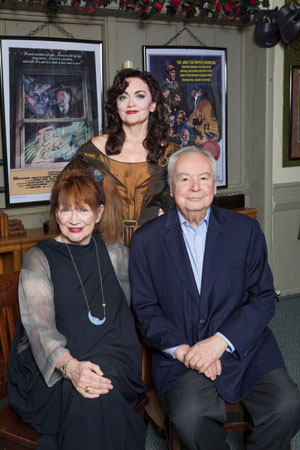 With Jenkins' backing, Carr continued to develop the script. "There must have been 100 different drafts. Bette Davis had such a huge life. It was about what to leave out," Carr said.
Carr admits it is impossible to include all aspects of Davis' career and professional connections, but she does reveal an unexpected side to the legendary Oscar Award-winner.
"She was very much a homebody. She loved keeping a home, she loved having children. She wasn't very good at it, but she loved doing it. She was a compulsive person in that if you were smoking like people did back then, she would take the cigarette out and have you hold it while she went to empty the ashtray. She was compulsive like that. Her bow had to be just right in her hair or else she would scream. This from the time she was a child. She was a control freak. She would drive people crazy," Carr said.
Shaw appreciates Carr showcasing Davis' work ethic and passion. "The thing that is different about this show and that I think is special is that it's not a caricature. It's not an impersonation. It's not a funny, over-the-top presentation. It's finding the humanity in her and as an actress, that's what I can bring to the table," Shaw said.
Jenkins produced the show at the Spoleto Festival in Charleston and Bogata's Iberoamericano de Teatro, the largest theater festival in the world. After the show received Best Performance and Play Awards in Bogata, Carr had an opportunity to gauge an international audiences' response.
"It's thrilling to have your work done in another language. They asked me to come back when they finally put it up in Caracas again. Of course, I didn't understand a word of my play. I was just kind of listening for names like Jack Warner or one of the names to her husband to know where we were in the story. There was huge applause and standing ovations," Carr said.
The success at Spoleto was both financial and artistic. "It was the number one show of 14 and it was the only show that made money," Jenkins said. "I know after Spoleto, they felt like they knew Bette as more than just a name. They knew her inside story."
For Shaw, the experience at Spoleto proved the show has mass appeal. "To go somewhere where no one knows you and to get standing ovations and the kind of response we got was truly the biggest honor. Spoleto was very important because it let me know the show could travel," Shaw said.
Travel is the future of All About Bette: An Interlude with Bette Davis. Jenkins intends for the show to appear at multiple smaller theaters across the country after enjoying limited engagements locally. Shaw marvels the show's development. "I have the 2006 show on DVD. I watched it. It's still amazing," Shaw said. "I think it's evolved in a beautiful way."
Learn more at www.AnEveningWithBetteDavis.com

Performances: June 7-10 at Margo Jones Theatre at Fair Park; August 11 & 12 at Stage West Studio in Fort Worth; August 18, 19, 25, 26 at Stone Cottage in Addison. All performances at 8 p.m.
Kimberly Richard is a North Texan with a passion for the arts. She's worked with Theatre Three, Inc. and interned for the English National Opera and Royal Shakespeare Company. She graduated from Austin College and currently lives in Garland with her very pampered cocker spaniel, Tessa.
Copyright FREEL - NBC Local Media