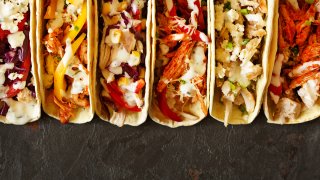 It's National Taco Day and who doesn't love tacos? What about free tacos?
Several places in North Texas are offering deals and discounts Monday.
Where can I get deals for National Taco Day in Texas?
Chuy's
Chuy's is letting customers add a crispy beef taco to any entree for $1. If you dress like a taco and post a picture of yourself using #ChuysTacoDay, you'll get a free entree of your choice (dine-in only).
Fuzzy's Taco Shop
Fuzzy's is offering $1.50 tacos all day.
Taco Bell
Taco Bell is offering a free Crunchy Taco with any qualifying purchase for Taco Bell Rewards members via the restaurant's app. Customers can also get $5 off Taco Bell on Grubhub on orders of $15 or more.
Taco Cabana
Taco Cabana has $1 bean and cheese, shredded chicken and ground beef tacos all day.
Torchy's Tacos
Torchy's has free delivery and no service fees all on orders placed on Torchys.com from October 4 through October 8. Also, members of Torchy's Taco Junkies rewards club will get special offers on National Taco Day.
7-Eleven
At 7-Eleven, loyalty members can get 10 mini tacos for $1 at participating locations. If you want them delivered, you can buy one order of mini tacos and get the second order free through the 7-Eleven app.