When considering shows to kick off Dallas Children's Theater's 35th season, Robyn Flatt, the theater's founder and executive artistic director, immediately thought of her childhood favorite, Robert Louis Stevenson's 'Treasure Island.' Working with co-adaptors Jeffrey Colangelo and Katy Tye, Flatt developed the classic pirate story into an immersive and multi-disciplinary adventure, Treasure Island Reimagined!, playing at Dallas' Rosewood Center for Family Arts from September 23 - October 21.
Flatt remembers watching a stage production of the novel directed by her father, Paul Baker, and hurrying home to fashion curtain rods into swords to act out her favorite scenes. She realized it's the perfect escapade to celebrate the theater's milestone anniversary and combine the talents of the theater's artistic friends.
"I think it's something high energy and visual and it's great literature," Flatt said. "It brings together several disciplines who work together in our building and we know very well, but we've never combined them in our shows."
Prism Movement Theatre, Kathy Burks Theatre of Puppetry Arts and Lone Star Circus join forces with Dallas Children's Theater to create a world of pirates, building a ship and bringing a character's nightmares to life onstage. "We want kids to see different ways of telling the story," Tye said.
For Colangelo and Tye, co-founders of Prism Movement Theatre, the greatest challenge of this adaptation is making sure the spectacle reinforces the story, not overshadows it.
"There is circus, there's fighting, there's singing and one top of it, we have to tell a story," Colangelo said. "With so much going on, everybody has to be on top of their game."
"It's making sure all of those elements flow together. We want the disciplines to complement each other. You don't want people to think the elements take away from the story," Tye said. "We want it to be in service of the story."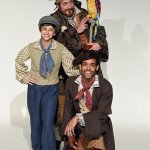 Tye also play Jim Hawkins. Looking at Stevenson's original story, she marvels at the dangerous situations her character, a kid, navigates. That's part of the story's appeal to kids: they get to see someone their age be the daring hero. "That kid's super brave," Tye said.
Flatt, Colangelo and Tye wanted to bring forward another perspective, adding more to Ben Gunn's story. Long John Silver befriends both Jim Hawkins and Ben Gunn, and then betrays them.
"You start to see parallels between the stories of the two men and their relationship with Long John Silver. He's basically a big, bad pirate, but he has a reputation of using people until he's done with them," Colangelo said. "It's all about making promises and then how do you fulfill them? Do you fulfill them?" Flatt said.
Besides adapting and playing multiple characters including Billy Bones, Colangelo is also the show's fight choreographer.
"The big thing is, oddly enough, I don't get to work with cutlasses and pirates very often and you get to put a lot of historical elements into action," Colangelo said, describing the ruthlessness of the fight between Billy Bones and Black Dog. "There's a lot of character development in the fight choreography."
Because Kathy Burks Theatre of Puppetry Arts has worked with the theater for years, including puppetry in this adaptation was a natural alliance.
"They're like family. We feel like we are part of their family and they're part of our family," Douglass Burks, who plays Old Pew and Captain Flint in addition to serving as a puppeteer, said.
How to incorporate puppetry wasn't as obvious. "When Robyn first approached us about Treasure Island, we thought 'What on earth will we do?' Burks said. "To me, the biggest challenge was figuring out the best way to incorporate them into the show and advance the story."
Long John Silver's parrot is a puppet, but the puppets also play illuminating roles that illustrate the nature of the relationships in the show.
"We were looking for a way for Long John Silver to lure Ben Gunn into his world and so he tells this story about the stars and Orion," Flatt said. The puppets create the constellations, revealing Long John Silver's ability to captivate. Using shadow puppetry, Jim Hawkins' nightmares become dramatically real and culminate in a thrilling way.
Treasure Island Reimagined! promises to be an imaginative celebration of Dallas Children's Theater's mission for the last 35 years. "It's essential to have quality theater and outstanding arts experiences for young people because it impacts them so much," Flatt said. "I can't think of a better way to build imaginations."
Burks is proud Kathy Burks Theatre of Puppetry Arts has been a part of the theater's efforts to build those young imaginations. "We're enriching the lives of these people. We're training the audience of the future," Burks said.
The theater has been a part of Tye's life since she was 3 years old. "I feel like I grew up there," Tye said. "It's a fantastic creative artistic outlet for kids."
Colangelo knows many Dallas artists who have gained important experience and admires the company's high quality and solid work. "They are absolutely a pillar in the community," Colangelo said.
CLICK HERE to learn more about Treasure Island Reimagined! opening day festivities on September 23.
Copyright FREEL - NBC Local Media