Using shades of black, white and gray, photographer Dave Heath attempted to comprehend and communicate the essence of the human condition. Multitude, Solitude: The Photographs of Dave Heath, the first in-depth survey of Heath's work on view through September 16 at the Amon Carter Museum of American Art in Fort Worth, evokes Heath's emotional integrity.
"The emotionally driven nature of Heath's work means that it is a little unusual for viewers today because there is no irony and there is no cynicism. This is sincere work," Keith F. Davis, the senior curator of photography at The Nelson-Atkins Museum of Art in Kansas City, Missouri, said.
The exhibition, organized by The Nelson-Atkins Museum of Art, features 150 of Heath's black and white photographs, primarily from the 1950s and 1960s. Heath's need to create art is born out of his difficult childhood.
Born in Philadelphia on June 27, 1931 and abandoned by both of his parents by the age of 4, Heath grew up in an orphanage and several foster homes. Life magazine, specifically "Bad Boy's Story", Ralph Crane's photo essay about a boy's life in an orphanage, inspired his interest in photography.
He devoted his life to using photography to explore all aspects of society. "From the age of 15 or 16 to the age of 85, art and photography was his way of finding out who he was and how he fit in the world," Davis said.
After moving to New York City in 1957, he gained national recognition and was awarded a Guggenheim Fellowship in 1963. For 36 years, he served on the faculty of Ryerson University in Toronto, Canada. Heath died on his 85th birthday in 2016.
The self-taught photographer's earliest works are his self-imposed assignments of individuals standing out in crowd scenes, couples doing everyday tasks and lonely individuals lost in thought. The photographs are candid, and the subjects often did not know they were being photographed. This early work is evidence of a young photographer learning the craft of creating something of beauty out of the ordinary.
"He would have seen it as really honoring these strangers by recording them in sympathetic ways, maybe not ultra-flattering, but totally sympathetic," Davis said. "There's a deep, deep respect for his fellow citizens."
In 1952 and 1953, Heath served as a machine-gunner in Korea, turning his camera on his fellow soldiers. He was not interested in documenting the action of the war. Instead, he focused on soldiers yearning for home, waiting to see what comes next. Inspired by photojournalist W. Eugene Smith, Heath used bleach to highlight specific areas of the photos to create striking prints.
"These prints made from '53-'54 negatives, made in the late 1950s are a fabulous example of his print making skills," Davis said.
to create a portfolio. It's an example of Heath's interest in how to sequence his photos and create a body of work that tells a narrative. This sequencing foreshadows what is generally considered his masterwork, A Dialogue with Solitude.
The book, initially published in 1965, reissued in 2000 and now out of print, features 82 photographs organized into 10 chapters with introductory quotes from literary figures such as Robert Louis Stevenson, T.S. Elliott and W.B. Yeats. "Dave did everything here: chose the typeface, sequenced the pictures, determined the layout on the spreads, found the quotations to accompany the images. It's completely an expression of his sensibility," Davis said.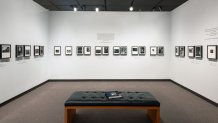 The exhibition displays reproductions of the book, taking viewers through the emotional exploration of love, racism, poverty, childhood, and death much as they would have if they were holding the book in their hands.
"This book was Dave's attempt to summarize everything he knew and everything he was as a picture-maker and as a thinker," Davis said. "He was genuinely a brilliant guy, troubled in many respects but really brilliant."
Heath pushed himself to use his photography in a new medium. "By the end of the 60s, he shifted gears yet again because of his need to explore the best possible mode for presenting his ideas. The next step was the audio-visual program where he essentially disembodies the image and renders it as a projected image on the screen," Davis said.
Beyond the Gates of Eden, Heath's first audio-visual work created in 1969, is featured in this exhibition. Heath took proofs of prints and sequenced them for a pair of projectors, accompanying the work with Tim Buckley's 1967 song, "Pleasant Street."
This experiment was another step in Heath's artistic journey to understand the human landscape. "He was searching for the best way to realize the emotions he felt in making these pictures," Davis said. "He was after his own kind of sense of a family of man, a kind of universal quality of dignity and fatalism and wisdom and craziness, all wrapped up together."
MORE: CarterMuseum.org

Copyright FREEL - NBC Local Media