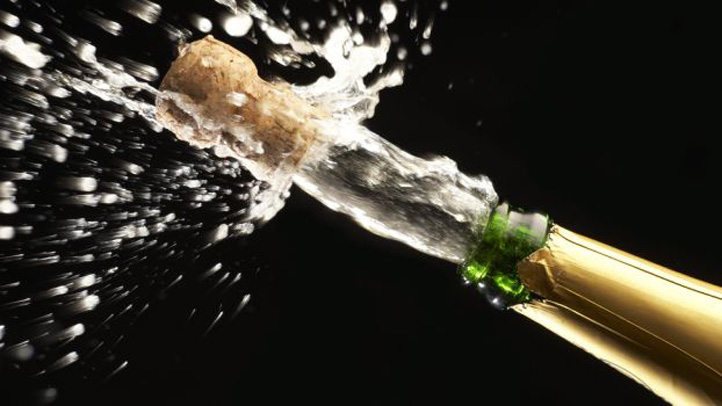 NOTE: These listed events were scheduled for December 2012.
For December 31, 2013 events, please click on this link: New Year's Eve Events 2013
---
If your plans for New Year's Eve involve the couch, noisemakers from the dollar store, and a bottle of sparkling apple cider, consider this handy list of where to get silly in the Metroplex.
From gigantic gatherings at Victory Park to fancy dinners at restaurants, you're bound to find something to do in Dallas-Fort Worth to ring in 2013.
Dates of all events are on December 31 unless otherwise noted.
Big D NYE
American Airlines Center
2500 Victory Avenue
Dallas, TX
Time: 7 p.m.
Price: Free
Quite possibly one of the most popular New Years Eve celebrations around the Southwest, Big D NYE is very much like our version of New Years Time Square. The crowds will be large and the entertainment will be nothing less than stellar with food tents, fireworks, and multiple stages for live music from bands Forever the Sickest Kids, LEOGUN, Pentatonix, DJ Ro Parrish and Breaking Southwest. All the anticipation will build to a huge, Stream Energy Fireworks Spectacular at midnight. What's better is that the whole event is free to the public of all ages.
Website
Maxim Masquerade New Year's Eve Ball 2013 at Zouk
Club Zouk
703 McKinney Ave.
Dallas, TX 75202
214-295-4644
Time: 10 p.m. - 3 a.m.
Price: $40 - $6000
If "be more glamorous" is on your list of New Year's resolutions, then grab your mask this is the party for you. Photographer will greet you on the red carpet, once inside the 25,000 square feet of celebration will feature two dance floors, four bars, 12 bartenders, Maxim models, a flipbook photo booth to capture your memories of the night. A champagne toast and balloon drop will mark the beginning of 2013.
Website
NYE at the Granada Theater
The Granada Theater
3524 Greenville Avenue
Dallas, TX 75206
Time: 8 p.m.
Prices: $16-70
What are you doing for New Year's Eve? Spending it at the historic Granada Theater with Somebody's Darling, the Quaker City Night Hawks and of course Jonathan Tyler and the Northern Lights. VIPs will get a complimentary champagne toast and goodie bag, plus plush seats in the Granada's balcony. Snag your tickets below.
Website
Crossroads at House of Blues
House of Blues
2200 N. Lamar St.
Dallas, TX 75202
214-978–4800
Time: 8 p.m.
Prices: $53 per person | $97 per couple
If fireworks and large crowds aren't your thing, the House of Blues has you covered. Four-course dinner packages were still available as of Friday. Electric Circus will play live on the Voodoo Stage at 10:30 p.m. Beware, the Victory Park festivities for Big D NYE is right around the corner, so plan accordingly.
Website
Family New Year's Party
Sci-Tech Discovery Center
8004 N. Dallas Pkwy
Frisco, TX 75034
972-546-3050
Time: 3 p.m. - 5:30 p.m.
Price: $10 per person for members | $15 for non-members
Sci-Tech is hosting a Family New Year's Eve Celebration. Put on your party attire and ring in the new year at this family friendly event. There will be games, snacks and a show featuring Molecule Man. At 5:00 pm, the group will count down to a neutron ball drop and toast the new year with sparkling cider. Space is limited, so reserve you spot by emailing tamera.hurdle@scitechdiscovery.org.
Website
Lights All Night NYE Dance Festival
Fair Park
3809 Grand Avenue
Dallas, TX 75210
Price: $99-$190
Time: December 29 - December 31
A New Year's Eve party so massive, it can't be contained in one night. For three days, see Tiesto and Avicii (Saturday), Bassnectar and Calvin Harris (Sunday) and Axwell and Ghostland Obeservatory (Monday) -- and many others --- headline this multi-stage festival that features some of the biggest names in electronic music.
Website
Sambuca Uptown New Year's Eve Party
Sambuca Uptown
2120 McKinney Ave.
Dallas, TX 75201
214-744-0820
Time: 7 p.m or 9 p.m.
Price: $49 - $100
Dance your way into 2013 with music from Blue Finger Disco and enjoy a four-course menu inside or on one of the restaurants enclosed heated and covered patios.
Website
New Year's Eve Bash & Casino
Omni Downtown Dallas
555 S. Lamar St.
Dallas, TX
Time: 9 p.m. - 2 a.m.
Price: $99 - $3,000
Why not ring in 2013 while attending an event that benefits the American Heart Association? The star-studded event features a silent auction, live music performances, award-winning DJs, a dinner buffet by Chef Jason and a Las Vegas-style casino lounge.
Website
For other ideas in the Dallas area click here.

Fort Worth NYE Bash 2013
The Bottom
3468 Blue Bonnet Circle
Fort Worth, TX 76109
Time: 9:30 p.m.
Price: $55
What better way to spend New Year's Even than in Cowtown with Austin country-rock band Waterloo Revival which performs from 10 p.m. to midnight. There will be drinks and small bites through the night and a DJ will ring in 2013 with music from midnight until 2 a.m., and you can dig into some breakfast tacos at 1 a.m.
Website
Sundance NYE 2013 at Club 515
Club 515 (previously Aqua Lounge/Tru/Avalon)
515 Houston St.
Fort Worth, TX 77379
469-684-2393
Time: 9 p.m. - 2 a.m.
Price: $20 - $75
Labeled "the official Fort Worth NYE celebration" on its poster, the celebration at Club 515 featured a paparazzi red carpet entrance, four DJs playing hip hop, electro and Top 40 music. The party boasts $10,000 in door prizes, $10,000 in party favors, a midnight champagne toast and a $10,000 cash balloon drop.
Website
Billy Bob's Texas
2520 Rodeo Plaza
Fort Worth, TX 76164
817-624-7117
Time: 10 p.m.
Price: $20 - $30
The World's Largest Honky Tonk is ringing in the New Year with JB & The Moonshine Band taking the stage at 10 p.m. followed by the headliner Casey Donahew Band.
Website
New Year's Eve: A Night in Vienna
Bass Performance Hall
555 Commerce Street
Fort Worth, TX 76102
817-665-6000
In an elegant celebration of New Year's Eve the Fort Worth Symphony welcomes back John Giordano, the FWSO's music director from 1972 to 2000. He leads a night of Strauss waltzes and other Viennese classics as well as soprano arias featuring a Fort Worth favorite Ava Pine.
Website
Four Day Weekend's New Year's Eve Dinner Package Show
Four Day Weekend
312 Houston Street
Fort Worth, TX 76102
817-226-4DAY
Time: Dinner at 8 p.m. and show at 10 p.m.
Cost: $100
Four Day Weekend, Fort Worth's longest running show, is hosting its 16th Annual New Year's Eve Dinner Package Show. The package includes admission to the show, a cocktail-style dinner catered by Reata, a future ticket to a Four Day Weekend performance, a champagne toast, party favors and dancing to a DJ after the show.
Website
Several Sundance Square restaurants are celebrating New Year's Eve, click here for info