In Dallas' Design District, Master Shen-Long works in his studio on new creations, pushing the boundaries of his artform. It only makes sense his first solo museum presentation in Texas would happen in his adopted hometown. The Crow Museum of Asian Art of The University of Texas at Dallas presents the artist's mid-career retrospective, "Future Retrospective," now on display through August 23, 2020 at the museum's Dallas Arts District home.
"We want to be able to honor his work and really show how he has contributed to the history of Chinese art," Jacqueline Chao, the museum's Senior Curator for Asian Art and curator of this exhibition, said.
Master Shen-Long is a multidisciplinary artist and contemporary master of the classical Chinese-literati perfections of painting, poetry and calligraphy. An artist disciple of the Han Yu Tang, the studio of the Royal Prince Pu Ru, Master Shen-Long has been creating art for more than 50 years and is highly respected for his innovative techniques, ceramics and ink painting. He is a Buddhist master, incorporating Buddhist, Daoist and Confucian philosophies into his work. "A lot of his paintings not only have original poetic inscriptions, but there is always a tie to Buddhist philosophy," Chao said.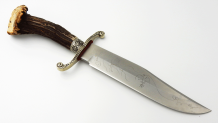 The exhibition begins with a surprise: Bowie knives carved with Master Shen-Long's inscriptions. These knives are on display for the first time in an American museum and in celebration of Texas. "He inscribed them with his own patterns and supernatural figures," Chao said. "It shows the range of his practice. He's a painter, he's a poet, he's a calligrapher. He's also a seal carver."
Among his most striking works are his large-scale ink paintings on canvas. "They are almost sculptural too, which is another thing that's different. We really wanted the windows up. We want people to experience the piece from the outside and from the inside and the outside really plays a role in being a backdrop for the paintings," Chao said.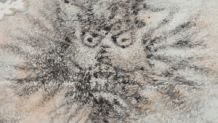 One of the painting is so long, it wraps around a section of the exhibition. Chao points out one of Master Shen-Long's motifs, the dragon. "He talks about how everyone has the power of the dragon inside them and again that's related to Buddhist philosophy, this philosophical idea that everyone has the potential to become enlightened," Chao said. "All of the paintings are abstract more so than others, but he's trying to convey a message of energy and possibility."
It is Master Shen-Long's stamina that Chao admires. "He does this all by himself," Chao said. "I'm blown away by his incredible energy. This scroll itself, the full length of it, is almost 80 feet, but we could only give him the constraint of the space. This is another example of how he is able to do this very unique technique with ink and water. It almost looks as though it's tons of waves and molecules coming together, forming a figure, the face of a dragon."
A 300 ft long scroll was created from 2015 to 2017. Only a small section showing the variety of his work with metallics, ink, different textures, a dragon figure, and his signature stencils is visible. "He said he worked on it a little bit every morning for two years," Chao said. "He was here for the installation in terms of deciding what sections were showing for the scrolls."
Another work on display is a large-scale painting he created for SOLUNA in 2018 in front of a live audience he invited into his Dallas studio. In less than an hour, he created a masterpiece using large brushes resembling brooms, brushes he created himself, smaller brushes and even his own fingers. "To be able to control a brush, the pressure, the weight, the amount of ink you put on the brush, the water, all of that takes years and years of practice," Chao said.
Another innovative motif in his work is his use of the female nude. He was the first artist to incorporate the female nude figure into Chinese ink painting. "For Master Shen-Long, the female nude is not meant to be an erotic object, but to be representative of a free spirit so he often equates the nude and shows the nude figure as either being someone who is a bit of a supernatural figure or a representative of freedom," Chao said.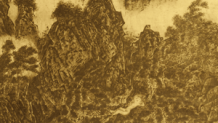 Master Shen-Long's "Lady Nightingale Summarizes Throughout the Ages," a hanging scroll dated 1982, is on display at the end of the exhibition, alongside the 10th century scroll that inspired it.
Both pieces depict a serene mountain scene, but in the middle of Master Shen-Long's creation is a reclining nude goddess at play.
"It really shows he can do the traditional, but he adds his own take because there's this woman relaxing in the stream," Chao said. "Very cutting edge."
MORE: CrowCollection.org
Copyright FREEL - NBC Local Media