The Dallas Chamber Symphony wants to have a musical conversation with Dallas. The city's only professional chamber orchestra is exploring the creation of classical music through "The Sounds Between," an 18-month composer residency with Dr. Douglas Buchanan.
"It's an opportunity for audiences to hear how music changes with different instrumentation or ensemble size and to consider how music feels, is shaped and how communication between composers, artists and audiences shapes an artistic product," Robin Korevaar, DSC's Director of Development, said.
DCS has commissioned and premiered 15 new works throughout its five-year history. This residency, partially supported by a grant from The TACA Bowden & Embrey Family Foundation Fund, is a natural evolution designed to educate the public about the development of new works and to support an individual's creative growth.
Dr. Richard McKay, DCS' Artistic Director and Conductor, was Buchanan's contemporary at Peabody Conservatory DMA program. Currently a composer, conductor, educator and performer in Baltimore, Buchanan grew up in Dallas. His family has worked with The Stewpot for decades.
This residency combines Buchanan's artistic talents and his desire to benefit underserved populations.
Buchanan will work with music students from Booker T. Washington High School for the Performing and Visual Arts, Southern Methodist University and University of Texas at Arlington, Dallas' homeless population, Boys & Girls Club participants and the public.
The program requires no musical pre-requisite. "This outreach is designed to build bridges for young listeners to understand classical music better, and to be confident to engage with it on the radio, at a community concert, in the music hall, to demystify and help them relate to it," Korevaar said.
Buchanan will identify five or six composition students interested in intensive mentoring. He will conduct digital sessions to fine tune their ideas, educate about compositional practices and help them find their own musical identity.
For emerging composers, readings will be held with live musicians from DCS or school ensembles with Buchanan listening and offering feedback. This is a unique opportunity for composers to hear their piece played by live musicians, giving them new perspective during their editing process.
Masterclasses in a more academic setting and lectures about Buchanan's music and his process of composition will also be offered.
"For emerging composers, all activities will be accessible to them. They can choose to dip in at whatever level they are comfortable, return as many as often as they like, at no charge. It's a fantastic year-long opportunity for composers and the public to make a relationship with a living composer and explore their craft," Korevaar said. "It serves those curious about classical music and how it comes to be written. People who enjoy music who would like to hear something new; it is for citizens of all ages."
A mid-residency concert on January 20 at the Dallas City Performance Hall will present three newly commissioned works, including a multi-movement work titled "Crossroads" for DCS and Dallas Street Choir.
Residency programs will be archived and recycled as blog posts and online interviews. With additional funding, Buchanan is available to provide additional lectures and classes.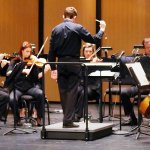 DCS will deepen its commitment to Dallas' homeless and at-risk youth communities this fall through "Take the Extra Step", supported by a gift from the Carl B & Florence E. King Foundation.
The program supports a series of concerts featuring classical, folk and world music developed for the Bridge Homeless Recovery Center and Dallas County Juvenile Department's Medlock Youth Village (DCJD).
The uplifting and educational concerts support objectives like relaxation, teamwork, communication, character development and leadership. The funding supports a three-hour specialized volunteer training for DCS musicians at both facilities.
"To ensure each youth's safety, the Dallas County Juvenile Department requires training for all volunteers. This training exposes volunteers to information helpful to their work at DCJD, such as the Prison Rape Elimination Act and other Dallas County Policies and Procedures," Stephanie Bays, Grant Services Supervisor at DCJD, said.
During its 2016-2017 season, DCS' pilot programs at the Bridge and DCJD were well-received. DCJD's narrated "Twist on Risk" concerts inspired teachers to extend the experience into writing and reflection in the classroom.
"For them to be able to see the instruments and to enjoy the professionals play some of the music that they are familiar with, allows them to appreciate music that they hear every day, however, from a different perspective," Aubrey C. Hooper, DCJD Principal, said.
These outreach concerts are some of the most fulfilling work for DCS musicians.
"We never know what somebody is dealing with, a loss in the family, a tragedy," a DSC musician said. "If even for a moment we can make a different by playing some music for them to cheer them up, trigger some fond memories or even play their favorite song, then we are making a difference."
MORE: Dallas Chamber Symphony

Kimberly Richard is a North Texan with a passion for the arts. She's worked with Theatre Three, Inc. and interned for the English National Opera and Royal Shakespeare Company. She graduated from Austin College and currently lives in Garland with her very pampered cocker spaniel, Tessa.
Copyright FREEL - NBC Local Media