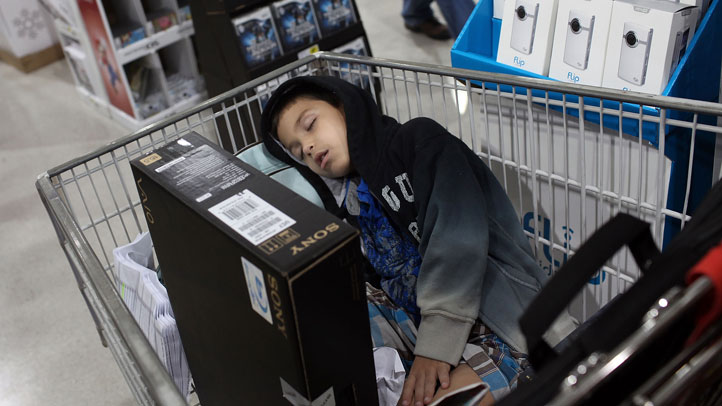 Need to know how to survive the most brutal shopping day of the year? Read on.
Is it Even Called Black Friday Anymore?
Many retailers are making Black Friday start on Thanksgiving Day. Best Buy and Walmart are both opening as early as 6 p.m. on Nov. 28. That could be before your Thanksgiving Dinner even gets out of the oven! Other early openers like Macy's, Kohl's, Sears, J.C. Penney, and Target start at 8 p.m. on Thursday. Of course, those are just the front of the pack -- there's still a whole lot of midnight openings for malls and other retailers.
CLICK HERE to see all the Black Friday Store Hours we've collected for 2013.
Plan Your Route
You don't want to spend your early shopping hours darting across town for the best deals. Take a few minutes to plan a route that will include many of the shopping spots you want to hit -- even if that takes you to another city. Not only will that make you more efficient, you might even save on gas.
Go Digital with Deals
Don't rely just on ads to find the best deals, take a gander at Black Friday specific sites or your much-loved daily deals collectors to see what will be offered. They've collected hundreds of deals you could take advantage of, but they're only step one of the process. Part two is sticking those deals on your smartphone using a shopping app like the locally-created ShopSavvy or by checking the Android or iPhone market for a Black Friday deals app. That reminds us...
Don't Go Anywhere
Sure, there are "doorbuster" deals that should net early risers with some discounts, but some big Black Friday deals will be available online just as if you were in the store. Take advantage of your cozy slippers and broadband connection and try spending the hours staking out deals online. Uber online businesses like Amazon have far more than one day of deals -- they've been celebrating Black Friday Week -- and others will offer what would have been Cyber Monday deals early to entice shoppers.
Stop This Insanity
Look, everyone likes to save money, but don't forget the holiday season is about more than material things. No discounted printer will be worth losing quality time with your family and friends, especially if they don't want to come with you. The old adage of "everything in moderation" works perfectly on a day where you could get some great deals, but also get some great memories with the people you love.