NBC 5 and the Trinity River Vision Authority invite you to a FREE 4th of July celebration on the banks of the Trinity River at Panther Island Pavilion just behind Downtown Fort Worth.
Fort Worth's Fourth is returning to Panther Island Pavilion and this year you can celebrate the Fourth of July in style thanks to the new VIP Experiences offered at the festival. Five new VIP sections will be located across the festival grounds, each offering a unique experience. Access to the VIP areas will range in price based on the amenities each section offers. VIP amenities include: prime fireworks and water show views, reserved seating, shaded lounge areas, private bathrooms and cash bars, VIP parking options and more.
Don't miss the inaugural 'Battle for the Bald Eagle' band competition directly in front of one of the VIP areas. Three up-and-coming Texas/Red Dirt bands will battle it out for a $500 cash prize, and the winning band will be forever immortalized on the Bald Eagle Trophy. All three bands will move on to the 3rd Annual Ranch Factor competition held July-October at The Railhead Smokehouse in Willow Park.
Fort Worth's Fourth Promises to Thrill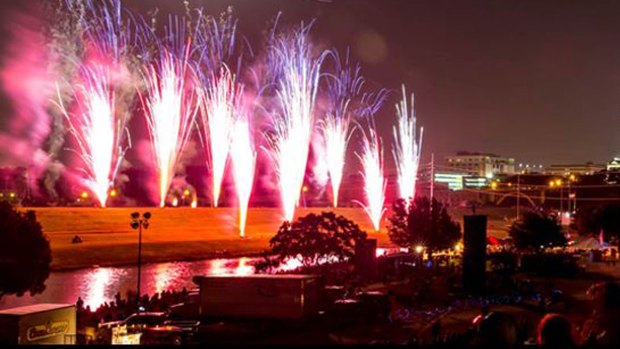 Prices for the five VIP areas range from $10 - $40/person depending on the experience. Access to each area is limited and we encourage purchasing tickets online in advance. Tickets can be purchased at www.FortWorthsFourth.com.
As always, admission to the festival and all family activities such as zip lines, bounce houses, water slides and more are free to the public. The celebration will take place all afternoon with family activities, tubing, jet ski and fly board shows. There will be live music from Jimmy Buffett tribute band, The Land Sharks, and high-energy cover band, Downtown Fever. Then at 10:00 p.m. a spectacular fireworks show will start.
Food, soda, water and beer will be for purchase on site. Gates open at 2:00 p.m., live music will be from 6:00 p.m. - 9:30 p.m. and fireworks will begin at approximately 10:00 p.m. For more information, or to purchase tickets to the VIP Experience, visit www.FortWorthsFourth.com.

About Trinity River Vision Authority:
The Trinity River Vision Authority (TRVA) is responsible for implementation of a public infrastructure project which provides needed flood protection and fosters the development of an exciting, pedestrian oriented, urban waterfront neighborhood in Fort Worth. TRVA aims to attract business and entertainment to the district and is in charge of programming public spaces including the Panther Island Pavilion, a waterfront music venue and festival space directly adjacent to downtown Fort Worth.
Fort Worth's Fourth 2015
Saturday, July 4
2 p.m. — Gates Open
6 p.m. — Live Music
10 p.m. — Fireworks
Panther Island Pavilion
Along the Banks of the Trinity River
395 Purcey Street
Downtown Fort Worth, TX 76102
www.FortWorthsFourth.com

Advertising sponsored in part by: