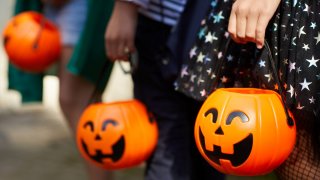 The pandemic and potential supply chain shortage aren't stopping consumers from celebrating Halloween.
In fact, they're getting ready to spend some major dollars.
The National Retail Federation expects people will spend more than $10 billion this Halloween. About three billion each is being spent on candy, decorations and costumes.
Among celebrants, 66% plan to buy candy, 52% plan to purchase decorations, and 46% will buy costumes.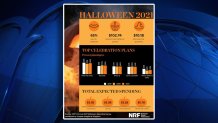 This season's total is up from more than $8 billion a year ago in 2020. Keep in mind, last year the CDC advised most people to avoid large celebrations or trick-or-treating, which impacted the numbers.
The amount of money people are spending this year blows the last four years out of the water. Economists are gathering that this stems from pent up excitement since a lot of Halloween celebrations were canceled last year.
Holidays
From gift guides to local events, we're here to help you celebrate in style.
Those numbers can seem daunting, especially when watching the family budget.
If you're not willing to spend the average of $103 consumers are expected to spend this Halloween, here's a list of cost-saving tips:
Try looking around your home. Check your closet. There might be hidden surprises to throw together a winning costume.
You might also want to look into renting a costume, especially since you're only going to wear it once.
You can search reputable local costume rental companies on Better Business Bureau. Make sure you check the store policy and read the rental agreement before signing anything.
For candy and other sweets, try buying everything in bulk. That'll save you money per item and ounce.
Be sure to check the return policy on anything you buy. A lot of seasonal shops carry unique items for a very short period of time so if you buy something that you later realize is broken, you might have trouble getting your money back. Those shops also close immediately after October 31, so you plan ahead.
Verifying store policies will help avoid mishaps like unwanted, broken, or faulty items being non-refundable. Remember: Buying a bunch of stuff with the intent of simply returning it after Oct. 31 is considered fraud.