The pandemic has forced many holiday events and parties to be canceled this season.
But so many others are reimagining safer ways we can enjoy annual holiday traditions.
Several socially distant and contactless events are kicking off this month. Here's a list of events that we will be updating:
SNOWDAY at Galleria Dallas
Galleria Dallas is hosting a contactless event called SNOWDAY. It's a photo-op experience built by creatives with an eye for holiday cheer.
When you walk in, you get a wristband that's connected to your smartphone through a QR code scanned upon entry. You then scan that band at each photo station they've created. All of the photos are sent to your phone.
Backdrops include "upside-down" rooms, an elf behind plexiglass and a space-themed holiday room.
The event also follows a strict reservation policy. Masks and social distancing is enforced. Click here to make a reservation.
Radiance!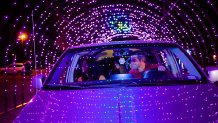 This is one of many bright spots as we enter holiday 2020. The Radiance! experience features over a mile long of 2 million lights and displays that you can drive through so you don't have to leave the safety of your car. Guests are able to tune into a radio station to listen to holiday music as they drive through the experience.
There are three locations in Frisco, Decatur and Weatherford. General admission is $30 per vehicle. VIP admission is $50 per vehicle, which includes a free cup of hot chocolate for each guest in the car, Magic Light glasses and more.
Luminova in Arlington
The first-ever Luminova Holidays event is underway at Globe Life Field in Arlington.
Features include nearly three million lights, a 10,000 square foot outdoor ice-skating rink, a 65 foot Christmas tree, interactive activities, light up hopscotch, and more.
"It's a huge honor to welcome Luminova to Arlington and Globe Life Field for their inaugural year. We have appreciated their collaborative approach to making this a unique experience while keeping health and safety at the top of the list," said Sean Decker, Executive Vice President of Sports and Entertainment for the Texas Rangers.
The event is spread out across 270,000 square feet both inside and outside the stadium grounds, so there is plenty of space to social distance. Capacity is limited and masks are encouraged.
Here's a link to their COVID-19 safety protocols.
Click here to pick a date to register. The last day to book is Jan. 3.
Vitruvian Lights in Addison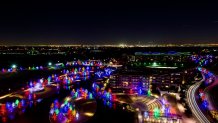 The annual experience of colorful lights on the park's 12 acres is now open.
Vitruvian Park in Addison is transformed into a walkable wonderland of lights. More than 500 trees are decorated in 1.5 million LED lights. Visitors can use the free parking for the park on-site.
The lights will be up until Jan. 3.
Farmersville Lights
The town of Farmersville is planning a beautiful display of lights down Farmersville Parkway and onto the red bricks of historic downtown in the Main Street area.
Events will be scheduled throughout the month, including horse drawn carriage rides, a live radio broadcast show of "It's A Wonderful Life", social media photo opportunities, outdoor Christmas karaoke in downtown, and more.
The lights will be on every night until Dec. 31. The drivable and walkable events are free. Click here for a full schedule of events.
NorthPark Center
NorthPark Center is hosting several Christmas events running through the first of the year.
The Trains at NorthPark return for an in-person, masked and socially distant experience. The miniature train exhibit -- a tradition now spanning more than 20 years -- helps raise money for sick kids and their families staying at the Ronald McDonald House of Dallas. The exhibit runs through Jan. 3. NBC 5 is a proud sponsor of The Trains at NorthPark. For more information and to purchase tickets, visit thetrainsatnorthpark.com.
Click here for a full list of NorthPark holiday events.
Gift of Lights, Texas Motor Speedway
The Gift of Lights returns this year at Texas Motor Speedway featuring a two-mile drive through 2.5 million lights.
The event is open each night from 6 p.m. to 10 p.m. through Jan. 3, 2021.
There are some special discount days like Crazy Car Day, Crazy PJs Day, Crazy Christmas Sweater Day and Bring Your Pet Day, as well as Military, First Responders and Health Care Worker Night.
Prices range from $30 to $60 depending on type of vehicle and a $1 donation from each ticket goes to the Speedway Children's Charities - Texas Chapter. Click here to register.
Dallas Zoo Lights Drive-Thru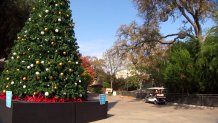 The Dallas Zoo reimagined its holiday lights display when it was clear the pandemic would still be a factor. It has opened its backlot for the Dallas Zoo Lights, a 1 1/4 mile drive through lighted theme displays and twinkling lights.
The zoo will limit the number of cars to about 600 per night. Organizers said money from ticket sales will help offset the past few months in which the non-profit zoo was either closed due to the pandemic or limiting the number of guests allowed on the property at one time.
Dallas Zoo Lights opened to the public Nov. 20 and run through Jan. 3. The cost is $65 per car ($50 for Dallas Zoo members). Reservations are required. Click here for more information.
Grapevine - Christmas Capital of Texas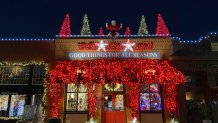 The city of Grapevine is holding up to its title by planning 1,400 events over 40 days this holiday season.
From drive-thru Christmas lights at First Baptist Church Grapevine to outdoor performances in the Historic Grapevine Christmas Spectacular and a singing Christmas tree at the Town Square Gazebo, there's a mix of both free and ticketed events for all comfort levels.
Most events run through Jan. 10, 2021. The city has posted a full list with dates, times and details on their website.
Christmas in the Square, Frisco
Starting Nov. 27, the city of Frisco has transformed downtown into a display of 180,000 lights blinking to holiday tunes. The event is free. Visitors are able to tune their radio to 107.3 FM to listen along as they drive or if they prefer to walk, the music is played over loud speakers. There's also an outdoor ice rink. Tickets to skate are $15 per person. The entire event will be up nightly from 6 p.m. to 10 p.m. until Jan. 4.
Holiday at the Arboretum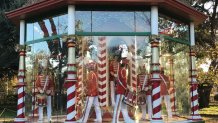 The annual Holiday at the Dallas Arboretum returns this year for an outdoor experience of holiday displays. The popular "12 Days of Christmas" will feature a dozen exhibits depicting scenes from the classic Christmas carol.
Visitors can attend during the day and after the sun sets. About one million lights will illuminate the gardens at night. The event is open daily until Dec. 31. Masks are required for ages 5 and older.
Click here for details and to reserve tickets.
The Modern Lights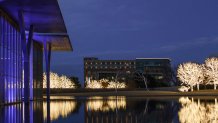 The Modern Art Museum of Fort Worth is bringing the holiday spirit by decorating its many trees with thousands of lights.
Guests are welcome to walk the grounds after sunset. The museum is open until 8 p.m. on Fridays, the day the museum grants free admission. The museum closes most days before dark. The lights will begin Nov. 27 and run through Jan. 17 every night until midnight.
Prairie Lights
Prairie Lights is returning this year starting Thanksgiving Day until New Year's Eve. The event is a total drive-through experience of four million lights on a two-mile path. There are new displays this year set up along the route. Halfway through the drive, families can order drinks and food through a new concessions drive-thru this year. There will not be a Holiday Village or photos with Santa this year due to the pandemic.
The event is open every night starting Nov. 26 to Dec. 31 from 6 p.m. to 10 p.m. Address is Lynn Creek Park at 5610 Lake Ridge Parkway in Grand Prairie.
Admission starts at $30 per car. Click here for more information.
Christmastime in Texas
Joshua in Johnson County is home to Christmastime in Texas, another drive-through Christmas light experience located a short drive from Fort Worth off Chisholm Trail Parkway and County Road 904. The park is filled with hundreds of displays along a mile and a half route. A large section of the park's lights are times to favorite Christmas tunes.
The lights turned on Nov. 20 and go dark on Dec. 30. The hours of operation nightly are 6 p.m. to 10 p.m. Sunday through Thursday and 6 p.m. to 11 p.m. Fridays and Saturdays.
Admission ranges from $35 for a family vehicle to $80 for shuttle buses. Click here for more information.
The Colony Christmas Spectacular
Light up trees and a lightshow set to music will be featured starting Dec. 5 until Jan. 4 outside the Central Fire Station in The Colony. The music plays on 99.9 FM in a synchronized show, Sundays through Thursdays from 5:30 p.m. to 10:30 p.m. and Saturdays from 5:30 p.m. to 10:50 p.m. Address to the fire station is 4900 Blair Oaks Drive, The Colony. This is a free event.
Magic of Lights Little Elm
Visitors can drive through more than a mile of holiday light displays at Little Elm Park for the Magic of Lights. Santa will be there on special nights. The event is ongoing now until Jan. 2. On Dec. 5, the park will close to drivers so pedestrians can access the experience on foot during the town's parade, tree lighting and fireworks shows.
The event runs every night from 6 p.m. to 10 p.m. on 701 W. Eldorado Parkway in Little Elm. Tickets are $23 to $80 per vehicle. For more information and to buy tickets, click here.
Do you feel like we missed a contact-free or socially-distant holiday experience in North Texas? Let us know! Email NewsTips@nbcdfw.com!