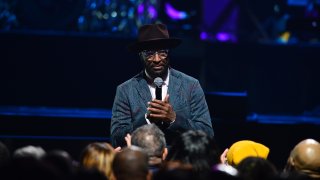 The daughter of comedian and radio host Rickey Smiley said she's "happy to be alive" and is feeling okay after being shot multiple times over the weekend in Houston.
Aaryn Smiley called into her father's show on Thursday morning and said she and her boyfriend were going to get food at Whataburger to celebrate her 19th birthday when she was shot.
"I'm okay. I'm happy to be alive. I'm just happy to be here," Smiley said on the "Rickey Smiley Morning Show."
Houston police said the incident happened on Sunday around 8:45 p.m. on South Freeway when shots were fired from an unknown vehicle at a car stopped at a traffic light. Three men in the car were injured, along with Smiley who was in a separate, unrelated car. Rickey Smiley says his daughter was shot three times.
The men in the other car suffered non-life threatening injuries. So far, no arrests have been made.
Read the full story on NBCNews.com