Two children who waltzed into a live TV interview about a very serious matter of world affairs became a viral video sensation Friday.
The precocious pair walked into a BBC interview with Pusan National University professor Robert Kelly, an expert on Korea, during a discussion on the ramifications of the ouster of South Korean President Park Geun-hye. Video the BBC posted on Twitter had more than 6,000 retweets and 7,500 favorites after about four hours, and other posts with the video had tens of thousands more.
Our favourite live TV moment of the week by far 👶😂 pic.twitter.com/GXSCUl5hYI

— BBC Newsbeat (@BBCNewsbeat) March 10, 2017
First, a little girl in glasses and a yellow sweater opened the door to the office where Kelly was speaking and sauntered up to him. It was his daughter, according to the BBC's write-up of the high jinx.
"I think one of your children has just walked in," presenter James Menendez said.
Kelly tried to soldier on, but things only escalated from there.
Twin Panda Cubs Reach Milestone At Georgia Zoo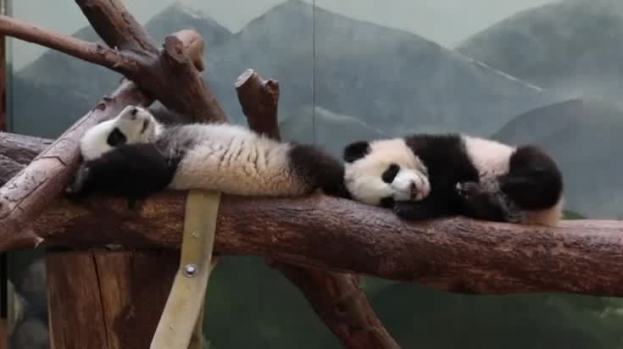 An exuberant baby in a baby walker next entered the scene. Then, in a slapstick moment worthy of Buster Keaton, a woman burst through the door after the kids. She hastily rounded them up and pulled them out of the room, with a few books knocked over in the process.
"My apologies," Kelly said, with a slight snicker.
NBC has reached out to Kelly for comment. He hasn't yet addressed the issue on Twitter, except to tweet his thanks to someone who pointed out he's "a damn good Korea analyst."
In other kids-do-the-darndest-thing news Friday, a different video went viral for showing a girl fly through the air after the door she was opening at her Ohio home was caught by powerful winds. (She was okay.)
And a toddler threw a temper tantrum in front of the Queen of England, who handled the outburst gracefully.