Next April's NFL Draft will be held at AT&T Stadium in Arlington, the league confirmed Wednesday.

NFL Commissioner Roger Goodell confirmed the location Wednesday morning, saying the 2018 NFL Draft will be held in North Texas and that it will be the first time the draft will be held at a stadium complex.

The draft had been held in New York every year since 1960, before Chicago hosted the 2015 and 2016 events. The 2017 draft was held in Philadelphia and attended by nearly 250,000 people, according to the NFL.
"Philadelphia raised the bar by taking the draft to another level, and this new opportunity in Dallas will enable us to continue the event's evolution and grow it even further," Goodell said in a news release. "We are grateful to the Dallas Cowboys, the cities of Arlington, Dallas, and Frisco, and the Dallas Sports Commission for their leadership in turning this vision into reality."
Raw Video: Ezekiel Elliott Addresses Latest Suspension TRO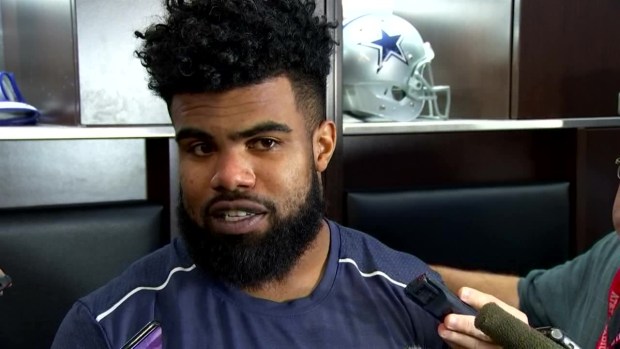 Dallas Cowboys Executive Vice President and Chief Brand Officer Charlotte Jones Anderson was in New York Wednesday for the announcement and said a North Texas draft will give NFL fans a chance to see the area's unique personality.
Goodell, Charlotte Jones Anderson Announce Draft in DFW
"We are so excited that the NFL has given us this opportunity to host the draft in April of next year. We really think we have come up with an incredible idea and concept that will really make AT&T Stadium shine but will also deliver a unique experience that is unlike anything you have seen thus far at the NFL Draft," Jones said. "We welcome them to come to Dallas, to come to Arlington, to AT&T Stadium to show their fandom and be a part of the draft in April."
Anderson said they have a lot of surprises in store for fans who attend the 2018 draft, some of which will be revealed in the months leading up to the event.
NBC 5's Jean-Jacques Taylor and NFL Insider Ian Rapoport were among the first to tweet about the draft's location Wednesday morning.
A source tells @BlueStarBlog the 2018 NFL draft will be at AT&T Stadium in Arlington. @NBCDFW

— Jean-Jacques Taylor (@JJT_Journalist) October 18, 2017
Source: There is a decision on the 2018 @NFL Draft site — it's Dallas, I'm told. AT&T Stadium will host it.

— Ian Rapoport (@RapSheet) October 18, 2017
As massive and expansive a fan experience as Philadelphia is, having the 2018 Draft at AT&T Stadium may be bigger, with Jerry Jones as host

— Ian Rapoport (@RapSheet) October 18, 2017
Round 1 of the 2018 NFL Draft will be held April 26. Rounds 2 and 3 will follow on April 27 and rounds 4 through 7 will complete the event April 28.
Several North Texas mayors signaled their excitement late Wednesday.
"Last year Philadelphia did an incredible job. It became bigger and better than ever," said Arlington Mayor Jeff Williams. "So we have a great job ahead to make it even bigger and better when it comes to Arlington and to Texas."
North Texas Mayors Excited for NFL Draft
Dallas Mayor Mike Rawlings offered a similar sentiment.
"[The NFL Draft] is the latest opportunity we'll have to show the country and the world all that Dallas has to offer," he said.
"Jerry Jones and the Dallas Cowboys deserve huge congratulations," said Fort Worth Mayor Betsy Price. "We are ready to roll out the red carpet to showcase Fort Worth."
NBC 5's Ben Russell contributed to this report.