The Dallas Cowboys got a look at their new "backup" quarterback Wednesday during minicamp.
Nine-year-old Raymond Melgarejo took snaps from under center and perfectly executed his hand-offs to running back Ezekiel Elliott during drills. He was also able to fire off a couple of passes under the watchful eye of his hero, starting quarterback Dak Prescott.
It was all thanks in part to the Make-A-Wish program. "Ray Ray" had a tumor removed from the back of his head. It was discovered while putting on a football helmet.
Prescott Makes Practice Memorable for Make-A-Wish Kid
Melgarejo and his family came all the way from California and were met in style by the Dallas Cowboys Cheerleaders and the Rhythm & Blue Drum Line after arriving at The Star in Frisco. Ray Ray was then ushered into the press conference room, where Cowboys vice president Stephen Jones signed him to an honorary contract and handed him his own No. 4 jersey.
Jones said, "He's so good we're actually going to let him and Dak compete for who gets to wear '4' next season."
Ray Ray then went to the outdoor practice fields to watch minicamp but that didn't last long. He was pulled onto the field by Prescott and company, participating during the group portion of the drills. He also got a chance to take a ride on "Jer-Force-One," the helicopter owned by Cowboys owner Jerry Jones.
"I hope it's something that they'll never forget for the rest of their lives," said Prescott. "Me and the guys definitely enjoyed it, the quarterbacks, having Ray Ray go through drills with us. He's got a nice arm. He may have a chance at this."
What the Make-A-Wish Program Means to Ezekiel Elliott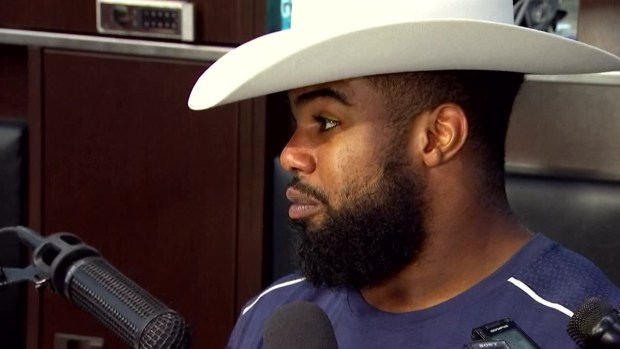 Taking the hand-offs from Ray-Ray during some of those drills was also special for Elliott.
"At Ohio State, coach [Urban] Meyer always said you are someone else's shining light," Elliott said. "It's really more than you. It's more than what you do on the football field. Every day, you want to try to be someone's shining light. You never know how you can change someone's life."
Ray Ray hung out with Prescott after practice. When asked what advice his hero gave him during drills, Ray Ray didn't hesitate to answer.
"Just to have confidence and just throw the ball," he said.