Quarterback Tony Romo remains a member of the Dallas Cowboys, for now.
Many expected to see the Cowboys release Romo Thursday when the NFL's free agency window began, but then word started to leak that the team may try to trade Romo to get something in return.
On Thursday afternoon, Romo posted a brief video on his social media accounts from what appears to be his home gym, thanking his fans for their support. Romo did not comment on his immediate future, however.
"Hey everyone. I just wanted to come to tell you it's been a crazy 48 hours here. Me and my family felt the outpouring of support and love from all of you. It's been overwhelming and it doesn't go unnoticed. I want to say thank you and we have a lot of think about going forward but we'll see what happens. Until then I'm just going to keep listening to Bob Dylan," Romo said.
Romo could be headed to the Houston Texans to replace departed quarterback Brock Osweiler, who was traded Thursday to the Cleveland Browns. Whether Dallas releases its longtime quarterback or works out a trade will soon be known.
Houston Sportswriter John McClain on Romo and Texans
Romo will leave the Cowboys as the franchise leader in yards passing (34,183) and touchdowns (248). But he could never match the postseason success of Hall of Famers and multiple Super Bowl winners Roger Staubach and Troy Aikman.
A 10-year starter who joined the Cowboys as an undrafted free agent in 2003, Romo lost the job last season to rookie Dak Prescott after breaking a bone in his back in a preseason game.
When he was healthy again, Romo conceded the job to Prescott during a franchise-record 11-game winning streak. His departure has been expected ever since.
A trade seemed unlikely before Thursday, as Romo turns 37 next month, carries a $24 million salary cap hit and has missed most of the past two seasons with injuries. But he could be attractive to contenders wanting a quarterback, including Houston and the Denver Broncos.
Pat Doney and Drew Pearson Discuss Tony Romo Release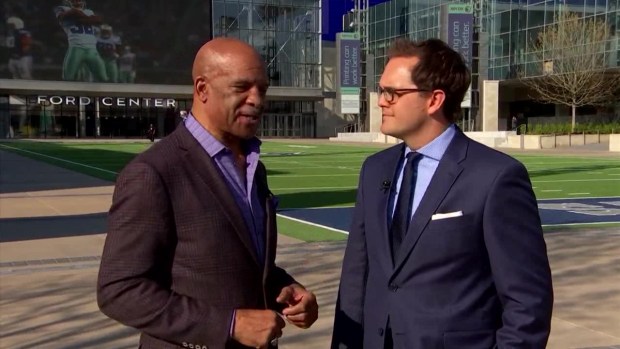 A release will free about $5 million in cap space for the Cowboys, who can split the dead money from a $19 million hit over two seasons.
Romo was 78-49 as the starter, but his playoff debut 10 years ago illustrated the postseason struggles ahead when he infamously flubbed the snap on what could have been a winning field goal in Seattle.
End of an Era: Tony Romo, Cowboys Quarterback 2003-2016
The four-time Pro Bowler went 2-4 in the playoffs, never winning on the road or reaching the NFC championship game.
Owner Jerry Jones and Romo talked "Cowboy for life" when Romo signed the franchise's first $100 million contract in 2013 — a $108 million, six-year extension through 2019.
Tony Romo: Top 5 Moments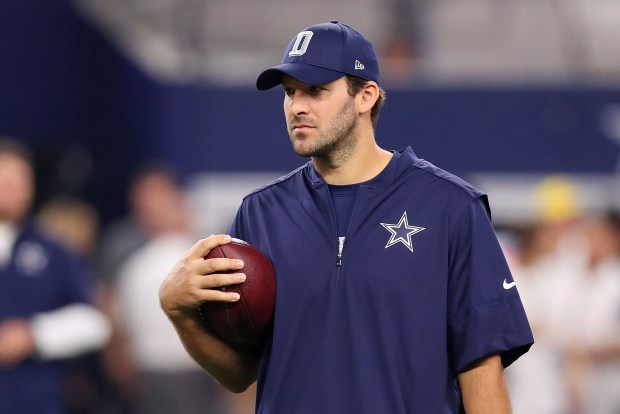 And there wasn't any reason to think it wouldn't happen as recently as two years ago after Dallas won the NFC East at 12-4 in Romo's last full season as the starter.
The Cowboys beat Detroit in the wild-card round before losing to Green Bay in the divisional round after the famous catch that wasn't by receiver Dez Bryant.
Tony Romo will be released by the @dallascowboys tomorrow. @NBCDFWSports Look for the @Broncos and @HoustonTexans to pounce. #NFL

— Newy Scruggs (@newyscruggs) March 8, 2017
In the second game of 2015, though, Romo broke his left collarbone when he was sacked, and the Cowboys went 0-7 without him. He returned for two games and broke the collarbone again as Dallas sunk to last in the division at 4-12.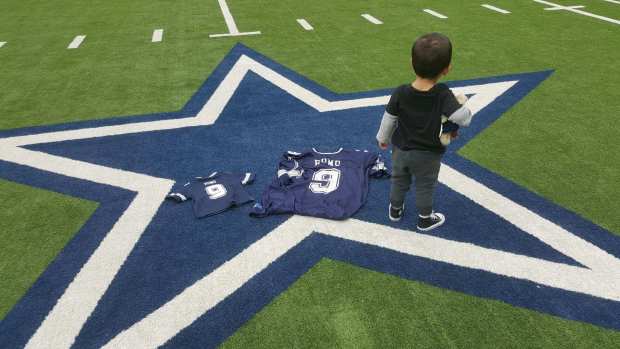 Cowboys Fans Share Their Tony Romo Photos
When Romo injured his back in the preseason against the Seahawks, Prescott had already shown promise in two preseason games. It carried over to the regular season with 11 straight wins after Dallas lost the opener. The Cowboys were the top seed in the NFC at 13-3 but lost their first playoff game to the Packers.
Legendary Cowboys Fan to Reacts to Romo News
Romo played just one series in his final season with Dallas, throwing a 3-yard touchdown to Terrance Williams in a meaningless regular-season finale at Philadelphia. His last snap in a home regular-season game was the last of three broken collarbones sustained in his career.
The Cowboys have already started looking for another backup, hosting 15-year veteran Josh McCown on a free-agent visit Wednesday.
Vice president of personnel Stephen Jones has said Dallas is interested in re-signing Kellen Moore, who was Romo's backup when he broke his right ankle in a training camp practice and missed the season. Prescott was the No. 3 quarterback before Moore's injury.