I was watching the Cowboys and the Colts play on Sunday and they tossed up a graphic showing just how dramatically the Cowboy's run/pass ratio had changed with Jason Garrett as head coach. Under Wade Phillips, the Cowboys ran the ball only 34 percent of the time. But since Jason Garrett took over, that ratio has changed dramatically, to the point where the Cowboys now run more than they pass. This is odd, given that Garrett always called the plays under Phillips. OR IS IT?
Garrett defended the old pass ratio by noting that the Cowboys were behind in many games this season, forcing them to play catch-up. Jean-Jacques Taylor notes that the team trailed by at least 10 points in all but one of their losses. But I think being only 10 points behind is a lousy excuse to abandon the run. There's still plenty of time left to run the ball in that situation. Furthermore, the Cowboys trailed against Indy (late) and New Orleans (early), yet you didn't see the team go away from the run then. So why has Garrett REALLY decided to change his stripes?
Well, there are two answers. The first answer, obviously, is that Tony Romo is hurt. And with Romo out, perhaps Garrett is less inclined to take chances throwing the ball downfield with Jon Kitna. And the second answer, of course, is that GARRETT SABOTAGED WADE PHILLIPS THE WHOLE TIME! Think about it! He only just now begins running the ball, once he's in charge and his boss has been run out of town? And now everyone is singing his praises? THIS WAS ALL A DIABOLICAL PLOT, I TELL YOU! He purposely threw four million bubble screens the first eight weeks to make Wade look bad. Then, once Wade was out of his way, he brought the run back. FIENDISHNESS!
Okay, so that probably isn't true. Jason Garrett probably didn't throw the season just to get a better job. But I wouldn't be mad at him if he had. He got Wade ousted with all that horrible play-calling. I think Cowboys fans are probably grateful for that. Keep on running, Princeton Boy.
Ranch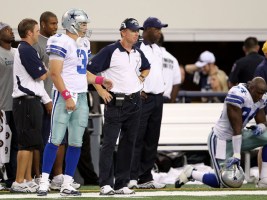 Getty Images
Prior to the firing of Wade Phillips, former Cowboy Darren Woodson spoke of an absence of accountability in the team, an absence of what he called a "fear factor," more or less suggesting the Phillips was too soft on his players. This accountability has returned however, Woodson said on Wednesday in an appearance on ESPN Radio 103.3 FM, with the promotion of Jason Garrett to head coach.
The question referenced Orlando Scandrick remarking after Sunday's win that he wasn't thinking about a touchdown celebration after his pick-six of Peyton Manning because of Garrett. Woodson said that such small changes are reflective of a disciplined, and accountable football team.
"That just shows you there's an accountability factor right now and maybe a little fear factor from Jason Garrett," Woodson said, per the Dallas Morning News. I mean, I think the one thing that you've seen is this team has been accountable; they've played well over the last few weeks.
"They've been a much more disciplined football team the last three or four weeks, and I think that just goes to show you that guys understand that Jason Garrett is not going to take the nonsense. It's a no-nonsense policy over there with the Cowboys and I think it has something to do with that."
Stay on top of the latest Dallas Cowboys news with NBCDFW.com. Follow NBC DFW Sports on Facebook or have breaking Cowboys news sent directly to your phone with Blue Star SMS alerts. Text "bluestar" to 622339 (NBCDFW) to subscribe to this free service. Read more about it here.