The 2016 NFL Draft's third day is over and the Cowboys have picked up a a quarterback, a defensive end, a cornerback, a safety, a running back and a tight end.
In the Cowboys final pick of the 2016 NFL Draft the Cowboys picked tight end Rico Gathers, a former Baylor basketball who apparently hasn't played football since 8th grade.
Right before Gathers, with the 216th pick the Cowboys selected running back Darius Jackson of Eastern Michigan
With their 212th pick in the sixth roud, the Cowboys picked safety Kavon Frazier out of Central Michigan.
In the sixth round, the Cowboys picked up Purdue cornerback Anthony Brown with the 189th pick.
The Cowboys finally drafted a quarterback selecting Mississippi State's Dak Prescott with the team's 135th pick.
The team also addressed the pass rush when they drafted Oklahoma defensive end Charles Tapper early in the fourth round.
In the third round, the Cowboys picked Nebraska defensive tackle Maliek Collins 67th overall. Collins is a penetrating interior disruptor who fits defensive coordinator Rod Marinelli's archetype.
With their second round pick, 34th overall, the Cowboys selected Notre Dame LB Jaylon Smith. Before Smith suffered a season-ending knee injury, Smith was widely considered to be a top-10 player in the draft.
Got a question about the draft? Using Facebook or Twitter, ask our team of sports experts your question using the hashtag below.
The Cowboys used the fourth overall pick in the draft's first round Thursday on Ohio State running back Ezekiel Elliott. In a scouting profile, we reported that Elliott can step in immediately and be a three-down back in the mold of DeMarco Murray.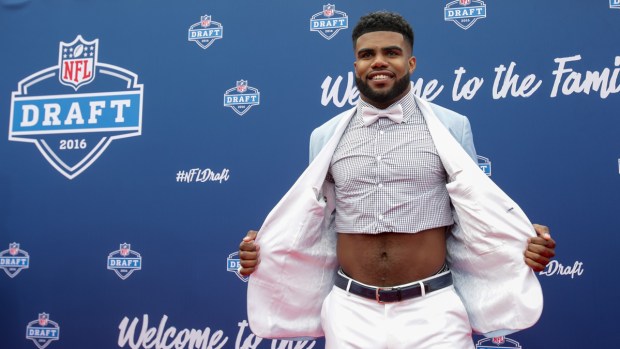 Best Style Moves from the NFL Draft Red Carpet
Watkins, Gosselin Break Down Cowboys Pick
Cowboys 2016 NFL Draft Results:
Round 1 (4): Ezekiel Elliott, RB, Ohio St.
Round 2 (34): Jaylon Smith, LB, Notre Dame
Round 3 (67): Maliek Collins, DT, Nebraska
Round 4 (101): Charles Tapper, DE, Oklahoma
Round 4 (135, Comp.): Dak Prescott, QB, Mississippi State
Round 6 (189): Anthony Brown, CB, Purdue
Round 6 (212, Comp.): Kavon Frazier, S, Central Michigan
Round 6 (216, Comp.): Darius Jackson, RB, Eastern Michigan
Round 6 (217, Comp.): Rico Gathers, TE, Baylor