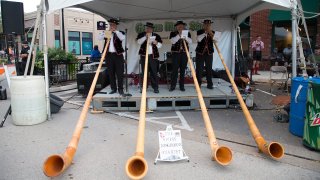 Join NBC 5 and the Southlake Chamber of Commerce for the #1 voted Oktoberfest in Texas! The 20th Annual Southlake Oktoberfest will be held October 15 – 17 at the Southlake Town Square. Admission is free, however there will be a wide range of food, beverages and booth items for sale.
Southlake Oktoberfest 2021 Schedule:
Friday, October 15 at 4:00 p.m. – 11:00 p.m.
Saturday, October 16 at 10:00 a.m. – 11:00 p.m.
Sunday, October 17 at 12:00 p.m. – 8:00 p.m.
The Southlake Oktoberfest's Wiener Dog Costume Contest and Race will also be available for attendees to participate in. The Wiener Dog Costume Contest and Race will be held on Saturday, October 16. Early registration is now open! Only the first 200 dogs will be accepted. Race Day registration begins at 9:00 a.m. Even if you pre-register, you must check-in by 9:00 a.m. to be assigned a number. The Costume contest begins at 10:00 a.m.
To register visit, www.southlakechamber.org/weiner-dog-race/.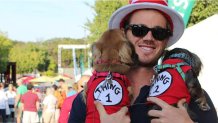 Enjoy a weekend filled with live entertainment, handcrafted arts and crafts and delicious food. The Southlake Oktoberfest is perfect for all ages. For more information, visit www.southlakechamber.org/oktoberfest/.
NBC 5 is a media sponsor of the 2021 Southlake Oktoberfest.
Southlake Oktoberfest 2021
October 15 -17
Southlake Town Square
Free Admission
For More Information Visit, www.southlakechamber.org/oktoberfest/