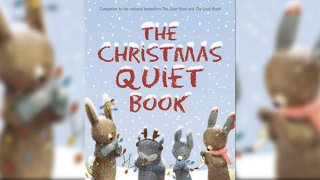 NBC 5 and Telemundo 39 are proud to encourage young students to read through our initiative, Reading With You. Along with our partners, Reading Partners North Texas, Alice J. Puente Reading Initiative, and the Fort Worth Public Library, we strive to keep children engaged in reading even when school is not in session.
Our Reading With You community partner Reading Partners North Texas has even more information about resources to help your student succeed. The Fort Worth Library is also partnering with the NBC 5 initiative, continuing to provide creative and diverse youth programs to keep kids learning and growing.
Apply here for a Fort Worth Public Library Card or eCard.
Enjoy our holiday-themed book list for children of all ages compiled by Reading Partners North Texas and the Fort Worth Public Library.
English Reading List
Reading Partners of North Texas:
A Piñata in a Pine Tree: A Latino Twelve Days of Christmas by Pat Mora
Local
The latest news from around North Texas.
A World of Cookies for Santa: Follow Santa's Tasty Trip Around the World by M.E. Furman
Seven Spools of Thread: A Kwanzaa Story by Angela Shelf Medearis
The Christmas Quiet Book by Deborah Underwood
The Nutcracker in Harlem by T.E. McMorrow
The Story of Holly and Ivy by Rumer Godden
The Trees of the Dancing Goats by Patricia Polacco
The Wild Christmas Reindeer by Jan Brett
Too Many Tamales by Gary Soto
Books Available at the Fort Worth Library
English Picture Books, for Young Readers and the People Who Read to Them
Alone Together: A Tale of Friendship and Hope by Julia Seal
Link to library book: http://fwmlc.polarislibrary.com/polaris/search/title.aspx?ctx=1.1033.0.0.1&pos=7&cn=2324985
Bedtime for Sweet Creatures by Nikki Grimes
Link to library book: http://fwmlc.polarislibrary.com/polaris/search/title.aspx?ctx=1.1033.0.0.1&pos=1&cn=2254698
Cozy by Jan Brett
Link to library book: http://fwmlc.polarislibrary.com/polaris/search/title.aspx?ctx=1.1033.0.0.1&pos=1&cn=2306155
Dasher by Matt Tavares
Link to library book: http://fwmlc.polarislibrary.com/polaris/search/title.aspx?ctx=1.1033.0.0.1&pos=1&cn=2226939
Dear Santa, Love, Texas by Michele Robbins
Link to library book: http://fwmlc.polarislibrary.com/polaris/search/title.aspx?ctx=1.1033.0.0.1&pos=2&cn=2308018
'Ohana Means Family by IIima Loomis
Link to library book: http://fwmlc.polarislibrary.com/polaris/search/title.aspx?ctx=1.1033.0.0.1&pos=1&cn=2259871
The Box Turtle by Vanessa Roeder
Link to library book: http://fwmlc.polarislibrary.com/polaris/search/title.aspx?ctx=1.1033.0.0.1&pos=1&cn=2259859
The Eight Knights of Hanukkah by Leslie Kimmelman
Link to library book: http://fwmlc.polarislibrary.com/polaris/search/title.aspx?ctx=1.1033.0.0.1&pos=1&cn=2308051
The Old Truck by Jarrett Pumphrey
Link to library book: http://fwmlc.polarislibrary.com/polaris/search/title.aspx?ctx=1.1033.0.0.1&pos=1&cn=2256820
You Matter by Christian Robinson
Link to library book: http://fwmlc.polarislibrary.com/polaris/search/title.aspx?ctx=1.1033.0.0.1&pos=1&cn=2282634
Early Chapter Books and Middle Grade, for ages 8-12:
A Snicker of Magic by Natalie Lloyd
Link to library book: http://fwmlc.polarislibrary.com/polaris/search/title.aspx?ctx=1.1033.0.0.1&pos=1&cn=2133200
The Greenglass House series by Kate Milford
Link to library book: http://fwmlc.polarislibrary.com/polaris/search/title.aspx?ctx=1.1033.0.0.1&pos=1&cn=579948
The Magnificent Monsters of Cedar Street by Lauren Oliver
Link to library book: http://fwmlc.polarislibrary.com/polaris/search/title.aspx?ctx=1.1033.0.0.1&pos=1&cn=2261204
The Vanderbeekers of 141st Street by Karina Glaser
Link to library book: http://fwmlc.polarislibrary.com/polaris/search/title.aspx?ctx=1.1033.0.0.1&pos=1&cn=2056505
Ways to Make Sunshine by Renee Watson
Link to library book: http://fwmlc.polarislibrary.com/polaris/search/title.aspx?ctx=1.1033.0.0.1&pos=1&cn=2278142
Lista de lectura en Español
Reading Partners of North Texas:
Arturo and the Navidad Birds de Anne Broyles
¡Cómo el Grinch Robó la Navidad! de Dr. Seuss
La Navidad del Camioncito Azul de Alice Schertle
Los Renos Rebeldes de Navidad de Jan Brett
¡Qué Montón de Tamales! de Gary Soto
'Twas Nochebuena de Ros
Libros disponibles en la biblioteca de Fort Worth
El burrito de navidad: Una tradición que celebra el verdadero significado de la Navidad de Sarah Raymond Cunningham
Enlace al libro de la biblioteca: http://fwmlc.polarislibrary.com/polaris/search/title.aspx?ctx=1.1033.0.0.1&pos=1&cn=903359
Diario de Greg: Frío fatal de Jeff Kinney
Enlace al libro de la biblioteca:
http://fwmlc.polarislibrary.com/polaris/search/title.aspx?ctx=1.1033.0.0.1&pos=1&cn=2224398
La casa de algún día de Julia Durango
Enlace al libro de la biblioteca: http://fwmlc.polarislibrary.com/polaris/search/title.aspx?ctx=1.1033.0.0.1&pos=1&cn=2291820
La Nochebuena South of the Border de James Rice
Enlace al libro de la biblioteca: http://fwmlc.polarislibrary.com/polaris/search/title.aspx?ctx=1.1033.0.0.1&pos=3&cn=110815
La velita de los cuentos de Lucia González
Enlace al libro de la biblioteca: http://fwmlc.polarislibrary.com/polaris/search/title.aspx?ctx=1.1033.0.0.1&pos=1&cn=1053078
Los Tres Reyes Magos: colores / colores: un libro bilingüe de colores de Patty Rodríguez
Enlace al libro de la biblioteca: http://fwmlc.polarislibrary.com/polaris/search/title.aspx?ctx=1.1033.0.0.1&pos=1&cn=2106984
Mi burrito: una cancion navidena de Susie Jaramillo
Enlace al libro de la biblioteca: http://fwmlc.polarislibrary.com/polaris/search/title.aspx?ctx=1.1033.0.0.1&pos=3&cn=2131912
Oye Muro: Un cuento de arte y comunidad de Susan Verde
Enlace al libro de la biblioteca: http://fwmlc.polarislibrary.com/polaris/search/title.aspx?ctx=1.1033.0.0.1&pos=1&cn=2291817
Una piñata en el pino navideño de Pat Mora
Enlace al libro de la biblioteca: http://fwmlc.polarislibrary.com/polaris/search/title.aspx?ctx=1.1033.0.0.1&pos=6&cn=1094527