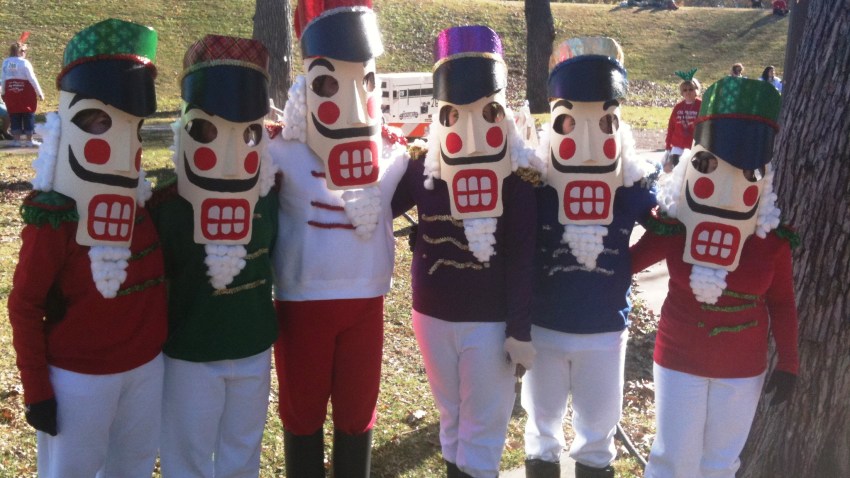 NBC 5 invites you to get into the holiday spirit and ring in the holidays at the Jingle Bell Run/Walk for Arthritis in Fort Worth. Chesapeake Plaza is the host of the 21st Annual Jingle Bell Run/Walk for Arthritis on Saturday, Dec. 1st. The Jingle Bell Run/Walk will be the first event of its type based at Chesapeake Plaza, located just west of downtown Fort Worth at 100 Energy Way. The event raises awareness and funds to significantly impact the fight against arthritis which strikes 50 million adults and 300,000 children in the U.S.
Thousands of participants will have the opportunity to celebrate the season and see more than one million dazzling lights in the trees surrounding Chesapeake's building, which features a 5K Run/Walk and a half mile Reindeer Fun Run. Activities begin at 2 p.m. with a festival which includes contests for best costume, best dressed dog, and activities for the entire family. The Reindeer Run starts at 4:30 p.m. The 5K starts at 5:00 p.m.
The Arthritis Foundation is committed to raising awareness and reducing the unacceptable impact of arthritis. It is the nation's leading cause of disability. To help conquer this painful and debilitating disease and learn more about education, research, advocacy and vital community programs and services, visit www.arthritis.org.
Community
Connecting NBC 5 to the community we serve.
Advance registration for the Jingle Bell Run/Walk is available online at www.fwjinglebellrun.org.
Jingle Bell Run/Walk for Arthritis
Saturday, December 1
Activities Begin - 2:00 p.m.
Reindeer Run – 4:30 p.m.
5K Walk – 5:00 p.m.
Chesapeake Plaza
100 Energy Way
Fort Worth
www.fwjinglebellrun.org