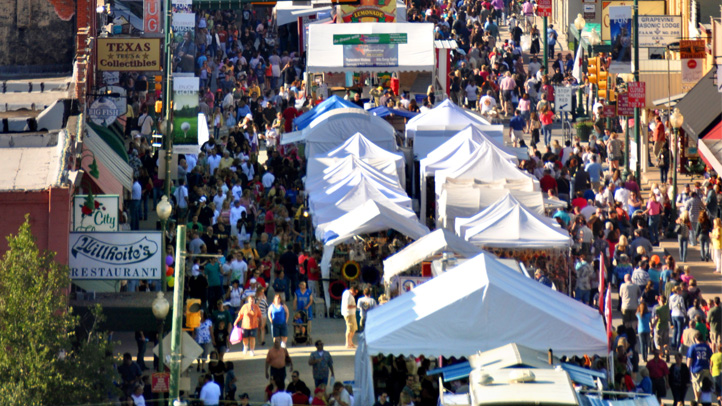 Grapevine's 31st annual Main Street Fest kicked off on Friday.
The festival attracted 166,000 people last year to historic downtown Grapevine.
One big concern for organizers this year is the weather. They are keeping a close eye on what Mother Nature has in store.
Community
Connecting NBC 5 to the community we serve.
"Main Street Fest is rain or shine," said Main Street Fest spokesperson Leigh Lyons. "We are expecting a great weekend out here. There are emergency plans in place. The safety of our patrons is always of the upmost importance."
The festival kicked off at 10 a.m. on Friday, admission is free until 5 p.m. Friday.
This year their big attraction is the craft brew experience.
"They can sample more than 50 craft brews from across the United States," said Lyons, "Of course we have the kid cave featuring Lego Land Discovery Center, Sea Life Grapevine Aquarium touch pool, four stages of live music, all weekend long, delicious festival food, and fun for the whole family."
The festival continues on Friday until 11:30 p.m. Saturday the festival starts at 10 a.m. to 11:30 p.m. and Sunday the festival starts at 11 a.m. and ends at 6 p.m.
31st Annual Main Street Fest
Tap into three full days of festival fun at Grapevine's 31st Annual Main Street Fest - A Craft Brew Experience, presented by Bank of the West, May 15, 16 and 17.
Held along Main Street in Historic Downtown Grapevine, guests will experience new and returning favorites, with a special emphasis on craft brew tasting experiences. Main Street Fest coincides with American Craft Beer Week.
From craft brew tastings, cask tappings and pre-festival craft brew and dining events, you are sure to find tons of craft brew fun in Grapevine!
If you prefer a little fruit of the vine, don't miss the chance to visit the Texas Wine Terrace.
Throughout the festival, enjoy festival foods, plenty of shopping, live music and children's activities. All this fun and more await you at Main Street Fest in Grapevine!
Grapevine's 31st Main Street Fest
May 15 - 17
Along Main Street
Historic Downtown Grapevine
www.GrapevineTexasUSA.com/MainStreetFest