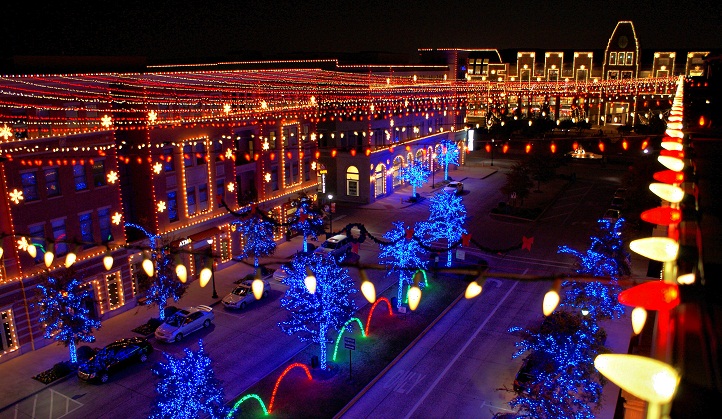 Frisco Square Property Owners Association, NBC 5 and the City of Frisco announce the 7th annual Christmas in the Square Light Extravaganza. Christmas in the Square runs now through January 6th, 2013 in the heart of Frisco Square, at Main Street and Coleman Boulevard. Watch as the lights dance to some of your favorite holiday songs. Christmas in the Square is the place to celebrate the holidays with your family and friends.
Also beginning this Friday are the Carriage rides, sponsored by Central Kia, which will be available Thursday through Sundays until December 30th from 6:00 pm to 10:00 pm. Grab a cup of piping hot chocolate from the Holiday Cafe and enjoy the light extravaganza in a horse drawn carriage. Carriage rides will be loading at the South end of FC Dallas Stadium next to the Holiday Cafe facing Main Street. Carriage rides are $6.00 per person.
Spring Creek Model Railroad returns with one of the area's most elaborate train displays and will be located at 6255 Frisco Square Boulevard. The Train Display will be opened each Friday and Saturday from 6-10pm starting November 23rd through December 15th.
Community
Connecting NBC 5 to the community we serve.
Time to pick out your Christmas Tree; bring the family to the Troop 51 Christmas Tree Lot at Frisco Square, on Friday to select your tree! The Tree lot will remain open through December 23rd.
For the complete calendar of events, please visit www.friscosquare.com/CITS
Frisco Square is a pedestrian-friendly, urban experience that blends shopping, dining, office space, apartment living, lofts, park space and Frisco's City Hall and library. Additional information about Frisco Square and to sign up for our weekly, e-newsletter visit friscosquare.com ; if you have questions please contact the Frisco Square information center at 972-668-3065. Frisco Square is on Facebook or download the Frisco Square iPhone app to access up to date information around the square. Receive Tweets about Frisco Square at Twitter.com/FriscoSquare.