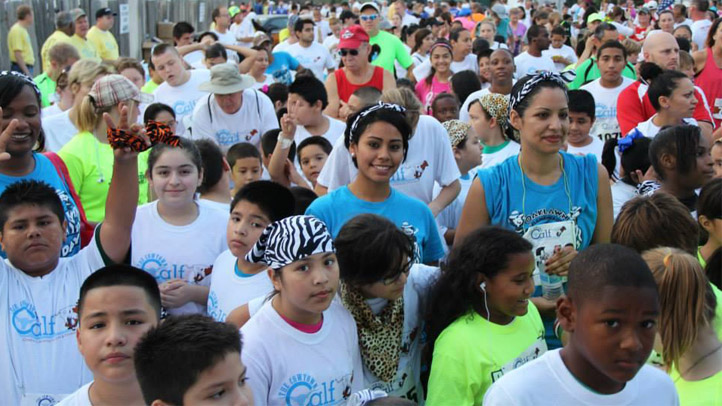 NBC 5 and The Cowtown Marathon invite you to the seventh annual C.A.L.F. (Children's Activities for Life and Fitness) Run on Saturday, October 6. The three-distance race kicks off the fall running season for adults, along with children who are participating in the Fort Worth –area C.A.L.F. Program.

The event will take place at the Coyote Drive-In in Fort Worth. New this year, is a 10K race distance that will replace the 15K race from the past. High school culinary students will prepare food samplings for runners at "culinary action stations" after the race.
Prior to the start of the race, The C.A.L.F. Program will be presented with a check for $200,000 to support the program's efforts to instill healthy habits in children.
Pull out your running shoes and make plans to be a part of this exciting event!
Registration for the C.A.L.F. Race is open at http://bit.ly/2018CALF.

2018 C.A.L.F. Run
Saturday, October 6
Coyote Drive-In
223 NE 4th St
Fort Worth, TX 76164
7:30 a.m. One-Mile Run
8:00 a.m. 10K race
8:15 a.m. 5K race
Registration: http://bit.ly/2018CALF

ABOUT THE C.A.L.F. PROGRAM
The C.A.L.F. (Children's Activities for Life and Fitness) Program is a year-round fitness program for area children and the charitable beneficiary of the annual February Cowtown Marathon six-race weekend and will celebrate its 10th anniversary in 2019. Since its beginning in 2009, approximately 28,000 pairs of shoes have been given to low-income students across North Texas. C.A.L.F. promotes the importance of good health and physical fitness in our community. Staff and volunteers visit 400+ schools annually across North Texas to train students in proper running techniques, helping them develop a life-long love of fitness. C.A.L.F. distributes more than 5,000 race entry grants to area youth to help them afford running events throughout the year, along with over 5,000 pairs of running shoes distributed to underserved youth.