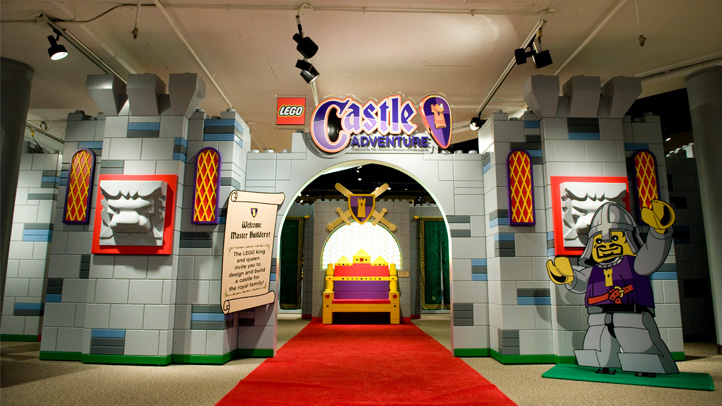 Summoning all castle builders! NBC 5 and the C.R. Smith Museum invite builders of all ages to explore, build, and play at the new LEGO Castle Adventure exhibit May 24 – September 13.
No matter what age you are, come out and enjoy the Lego Castle Adventure kingdom. Explore the inside of a giant castle full of LEGO brick decorations. Find the king and queen's thrones, and secret passageways. Defend the castle walls and climb into a lookout tower topped with a mini-figure guard and slide back down to the ground or stroll along the castle's wheelchair accessible battlement wall. Virtually build a fortress wall onscreen and test its strength with a LEGO catapult. Most importantly, don't forget to see the friendly LEGO dragon.
Builders of all ages and skill levels are also encouraged to construct castles, learn about real-world castles and their building secrets, and plan their ideal castle's defenses. The Builders Guild is divided into three age-appropriate build areas:
Apprentice Builders – Toddlers can build using soft foam LEGO bricks.
Journeyman Builders – Children ages 3 – 6 can build with LEGO Duplo bricks.
Master Builders – Children ages 7 and up can create designs with brick paper and then build using classic LEGO bricks.
The LEGO adventure of a lifetime awaits you at the LEGO Castle Adventure exhibit. Don't miss this exciting, interactive exhibit at the C.R. Smith Museum May 24 – September 13.
Community
Connecting NBC 5 to the community we serve.
LEGO Castle Adventure
May 24 – September 13
C. R. Smith Museum
4601 Hwy 360
Fort Worth, TX 76155
http://www.crsmithmuseum.org