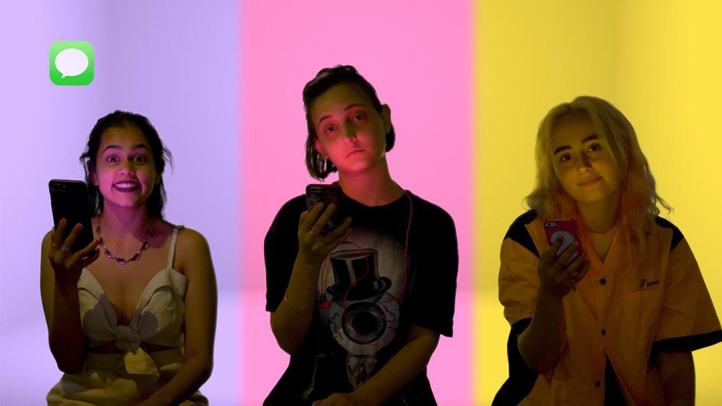 NBC 5 invites you to the Women Texas Film Festival (WTxFF), opens on August 15, and runs through August 18. Featuring established and emerging female storytellers in film and TV, the WTxFF returns to the historic Texas Theatre along with new locations at Methodist Dallas' David H. Hitt Auditorium and Alamo Drafthouse Cinema Cedars.

The WTxFF features innovative films that exhibit the range of the female storyteller. Every genre and every style will be on display. On top of that, there will be a red carpet on Saturday, August 17 at the Texas Theatre.

Emily Cohn's CRSHD opens the film festival, and Bridget Stokes' EMMETT (BOY GENIUS) is the Closing Night Selection.

WTxFF has also continued to grow in terms of the number of films programmed, with this year's edition nearly doubling the number of features that were offered last year, as it showcases 17 feature-length films, and 29 short films, all celebrating the range and power of women's voices.

WTxFF screens qualified films that have women in at least one key creative role: Writer, Producer, Director, Cinematographer, Editor. WTxFF also organizes a host of activities, focused on the craft and artistry of filmmaking, including moderated Q&As with filmmakers, panel discussions, networking events, and a gala night with filmmakers featured on the red carpet.

For more information about Women Texas Film Festival including a complete screening list, visit www.WomenTxFF.org.

Women Texas Film Festival 2019
August 15 – August 18
VIP passes: $75
Student passes: $35
Individual tickets: $11
www.WomenTxFF.org

Texas Theatre
231 W. Jefferson Boulevard
Dallas, TX 75208

Methodist Dallas' David H. Hitt Auditorium
1441 North Beckley Avenue
Dallas, TX 75203

Alamo Drafthouse Cinema Cedars
1005 S. Lamar Street
Dallas, TX 75215

The 2019 Women Texas Film Festival official selections:

Opening Night Selection

CRSHD
Director: Emily Cohn
Country: USA, Running Time: 82 minutes
On the last night of her college freshman year, Izzy tries to lose her virginity with the help of her two best friends, but their only hope is getting into an exclusive, invite-only "Crush Party."

Closing Night Selection

EMMETT (BOY GENIUS)
Director: Bridget Stokes
Country: USA, Running Time: 90 min
Emmett, a 12-year-old black child prodigy, teams up with his eccentric SAT tutor to solve a crime and keep his family from splitting up.

Preceded by
EARTH MOTHER
Director: Kelly Riot
Country: USA, Running Time: 3 minutes
EARTH MOTHER is a musical short that portrays Rosa Parks, Frida Kahlo, Ameila Earhart and Joan of Arc taking a stand against the societal norms and restrictions of their time. Each of these women is a pioneering force in history and the struggles they overcame cemented their places as feminist icons.

Special Make Out Party Presentation

MAKE OUT PARTY
Director: Emily Esperanza
Country: USA, Running Time: 25 minutes
MAKE OUT PARTY is a no-budget, high-style comedy of errors that follows three vibrant characters though a day of misadventure as they set out to attend hostess Mary Woah's Make Out Party. Meet Madame X, a leather-clad Venus with too many lovers; Band-Aid Box, a dapper-femme do-gooder just trying to make it through their day; and Bambi, a peppy Satanist-witch with no time for catcalls. Will they make it to gap-toothed-pin-up-queen Mary Woah's Make Out Party? From meanie alien greaser gangs, to a pair of tough roller-skaters, a conniving librarian and a disgruntled waitress, our heroes sure have their work cut out for them. In the end, Make Out Party reminds us that we are all wild wonderful wackos who deserve a French kiss.