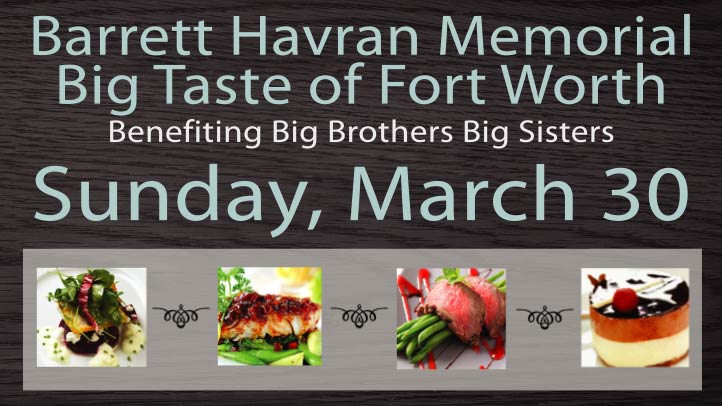 NBC 5 and Big Brothers Big Sisters invite you to the 35th Annual Barrett Havran Memorial Big Taste of Fort Worth on Sunday, March 30, at the Omni Fort Worth Hotel, 1300 Houston Street, Fort Worth, Texas 76102.
For the past 35 years, The Barrett Havran Memorial Big Taste of Fort Worth has been Tarrant County's premiere food and wine tasting event featuring the gourmet cuisine of our city's finest restaurants while benefiting the children of our community.
As Fort Worth's culinary reputation grows, so does the quality and diversity of the event. Attendees can expect to enjoy both long standing favorites as well as new vendors that reflect our city's vibrant restaurant community.
Community
Connecting NBC 5 to the community we serve.
Winners of the event are selected by a panel of celebrity judges and by attendees. The "Best of Big Taste" award is the judges' choice for best overall food at the event. The "People's Choice Award" is determined by attendees who vote for their favorite restaurant via ballots.
The Main Tasting portion of the evening begins at 6:00 p.m. and open seating tickets are $125 each. The VIP Wine Tasting is from 4:30 p.m - 6:00 p.m. and that ticket price of $200 provides admission to both the VIP Wine Tasting and the Main Tasting.
To make individual reservations, please visit www.BigTaste.org or contact 888.887.BIGS.
35th Annual Barrett Havran Memorial Big Taste of Fort Worth
Sunday, March 30
Omni Fort Worth Hotel
1300 Houston Street
Fort Worth, TX 76102
4:30 p.m. - 6:00 p.m. - VIP Wine Tasting
5:30 p.m. - Early Admittance to Main Tasting*
6:00 p.m. - 8:30 p.m. - Main Tasting
www.BigTaste.org