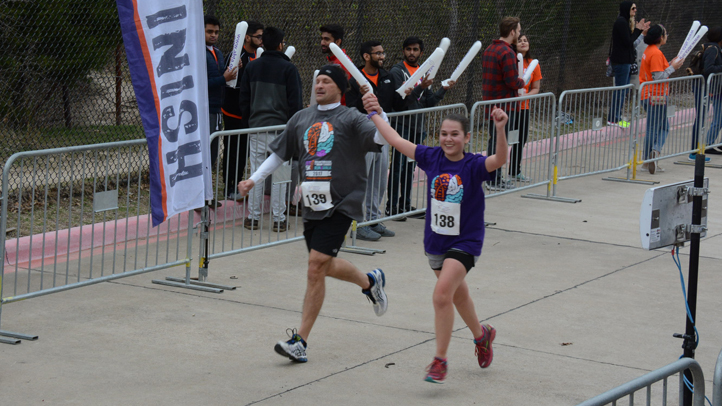 The American Brain Tumor Association (ABTA) will host a Breakthrough for Brain Tumors 5K (BT5K) Run & Walk this Saturday, March 3, at the at the Amphitheater at Oak Point Park located at 2801 E. Spring Creek Pkwy in Plano. NBC 5 invites runners and walkers of all ages to participate in this family-friendly event beginning at 8:00 a.m.

Having, caring for, or knowing someone with a brain tumor can be a challenging, emotional, and even isolating experience. The ABTA's BT5K Run & Walk allows all those in the brain tumor community to come together, celebrate brain tumor survivors, and ultimately raise money to connect patients with resources and to make advances in fighting this devastating disease.

There are nearly 700,000 people living with a primary brain or central nervous system tumor in the United States, and by the end of 2018, almost 80,000 new cases are expected to be diagnosed. BT5K Run & Walks are the ABTA's signature fundraising events. Last year, with the help of communities around the country, the ABTA raised more than $2.2 million through our nine BT5K events.

The BT5K will also feature an interactive "Journey through the Brain" experience with a larger-than-life inflatable brain exhibit. Tours will offer a first-hand look inside the brain and allow visitors to learn more about the inner workings of the most complex organ in the body.

Online registration is closed for the BT5K Run and Walk, but you can still register at the walk and help fund brain tumor research and patient support programs! To learn more, visit www.bt5k.org.

BT5K Run & Walk 2018
To Fund Brain Tumor Research
Saturday, March 3
8:00 a.m.
Amphitheater at Oak Point Park
2801 E. Spring Creek Parkway
Plano, TX
www.bt5k.org

About The American Brain Tumor Association
Founded in 1973, the American Brain Tumor Association was the first national patient advocacy organization committed to funding brain tumor research and providing support and education programs for patients, caregivers and their loved ones. For more information, visit www.abta.org or call 800-886-ABTA (2282).