A highway ramp south of Dallas/Fort Worth International Airport reopened Friday morning after repairs were made to a buckle, that created a large, hazardous speed bump in the road.
SB Spur 97 to SB SH 360 repairs are complete. Crews getting ready to open ramp imminently. pic.twitter.com/QMIiY0v6jM

— Midtown Express (@DriveMidtown) June 5, 2015
The buckle appeared Thursday in the southbound ramp to Texas state Highway 360, accessible from both the south exit of D/FW Airport's Spur 97 and the westbound state Highway 183.
Before the road was closed for repairs, the pavement was raised approximately eight to 10 inches and vehicles driving at a normal rate of speed went slightly airborne and lost traction with the pavement.
There are no reports of any injuries.
NBC 5 Photojournalist Kevin Stewart drove over the buckled road to show the problem from a driver's perspective.
Raw Video: Driving Over Buckled Bridge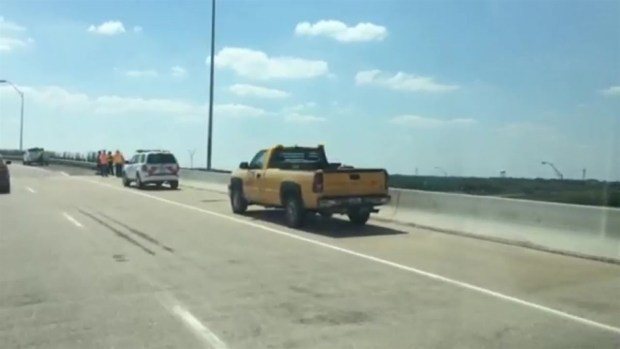 NBC 5 Photojournalist Kevin Stewart's camera was rolling as he drove over the buckled bridge in Fort Worth by D/FW International Airport. (Published Thursday, June 4, 2015)
On Friday a large patch of new pavement was scene at the site of the buckle. The road reopened around 11:30 a.m.
The ramp to SB 360 at #DFW's south entrance/exit is now open. Thank you for your patience.

— DFW Airport (@dfwairport) June 5, 2015
NBC 5's Holley Ford, Ben Russell and Frank Heinz contributed to this report.

Published at 12:06 PM CDT on Jun 5, 2015 | Updated at 12:10 PM CDT on Jun 5, 2015