Tillman's Roadhouse Recipe: Venison and Wild Mushroom Frito Pie
Feelin' gamey?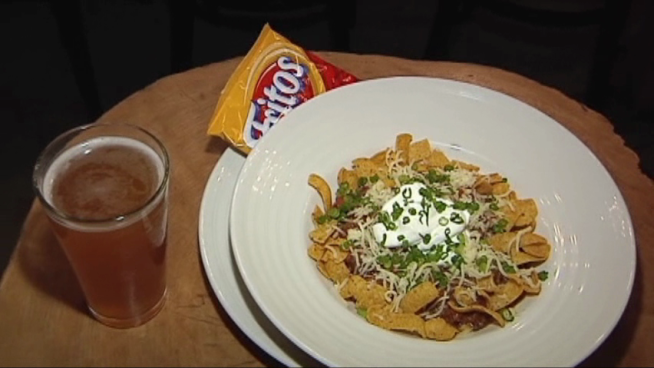 Venison and Wild Mushroom Frito Pie
2 lbs ground venison
2 tbls ground new mexico chile
1tbls ground ancho chile
1tsp ground chipotle chile
1tsp ground cumin seed
2 tbls kosher salt
1 tbls cracked black pepper
1 tbls fresh thyme chopped
2 small yellow onions diced medium size
3 small carrots peeled and diced medium size
2 small parsnips peeled and diced medium size
3 medium beets peeled and diced medium size
1 large Portobello mushroom, cleaned of gills and diced medium size
2 garlic cloves minced
half a cup masa harina
half a cup vegetable or olive oil
24 fl oz shiner bock
12 fl oz diced tomatoes in juice

Heat a cast iron skillet over medium high heat until the skillet begins to smoke. Add half of the oil and coat the skillet. Once skillet is coated, add venison and begin browning. Add ground chilies, cumin, salt, pepper and thyme and cook venison until water is cooked out. Then remove venison from skillet and reserve. Place other half of oil in the skillet and once the oil begins to smoke add the Portobello mushroom. Sear the mushroom on all sides and then add the onions and garlic. Saute the onion and garlic until the onion is soft and translucent. Add in carrots, parsnips, beets and saute together until the carrots yield to the touch slightly.

Add the venison back in as well as the tomatoes and shinier bock. Bring to a boil and reduce to a simmer. Once the chile begins simmering, sprinkle the masa harina over the chile and stir in and mix completely. The chile will thicken from the masa. Once the chile thickens, reduce heat to a low simmer and cook for 20 minutes stirring occasionally.
Serve with Frito corn chips, grated white cheddar cheese, sour cream and scallions. Enjoy!