10/16-10/17: Laugh, Shriek, Run!
A king of comedy, zombies, and a race for a cure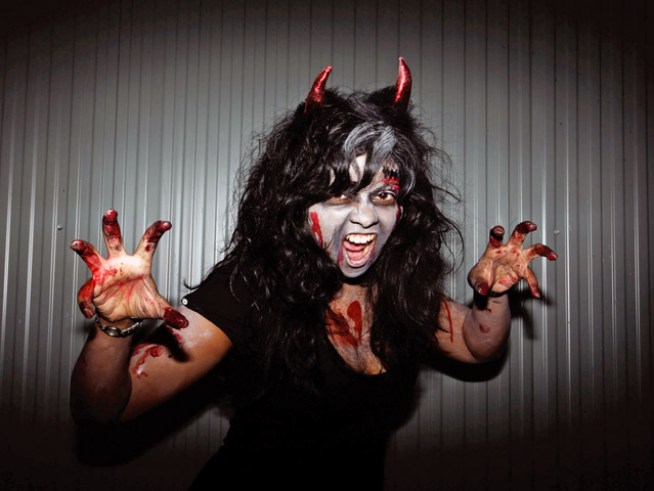 Getty Images
SYDNEY, AUSTRALIA - OCTOBER 25: A women dressed like zombie poses during the Thrill The World 2009 event, which sees fans from all over the world dance simultaneous to Michael Jackson's "Thriller" at Luna Park on October 25, 2009 in Sydney, Australia. The event aims to raise money for charity and break the current world record for the Largest Simultaneous Thriller Dance. (Photo by Brendon Thorne/Getty Images)
AN ORIGINAL (KING) COMIC: D.L. Hughley may be one of "The Original Kings of Comedy," but lately the funnyman can be seen introducing the next wave of comic talent as host of HBO's "Def Comedy Jam." Aside from his hosting gig, Hughley has his own one-hour HBO special titled "Unapologetic." Hughley began his career in stand-up comedy, then made a few film appearances, landed his own sitcom and worked as a CNN correspondent and radio host only to end up back where he started -- the stand-up stage. He's come full circle and is ready to put his comic genius to the test for all of of North Texas when he appears at the Addison Improv. The "King of Comedy" will perform three shows on Saturday and one show on Sunday.
ZOMBIELAND: So apparently Dallas residents are hoping to break the world record for the most zombies in one area -- well, not real zombies (because that would be weird). Zombie Walk Dallas 2010 is happening Saturday at 3:30 p.m. at 2826 Arnetic in Dallas. The attempted largest gathering of undead was organized by Kael Graham and Crissy Seber, who anticipate record-breaking zombie attendance. The Zombie Walk is not just for gathering the best-looking people in DFW, but it's also helping out a cause by accepting donations for the North Texas Food Bank. So bring your canned goods and zombie good looks out to Deep Ellum for an unusual kind of crawl.
RACE FOR THE CURE: It's time to put your running where your heart is. The 2010 Komen Race for the Cure is jetting through NorthPark Center from 6:30 a.m. to 10 a.m. Saturday. Susan G. Komen for the Cure celebrates 28 years racing here in Dallas. The annual event began in 1983 with only 800 participants and this year welcomes more than 25,000 runners who are running to honor loved ones or just help fight breast cancer. Registration is from 6 a.m.-8 a.m. between AMC and Nordstrom in the mall, and the cost is $40 a person. On your mark-- get set -- CURE!

---
Get to know What You're Doing Tonight every day by connecting with NBCDFW Around Town. Text DFWTonight to 622339 to get WYDT updates right on your mobile device. Still need more things to do? Check out our Events Calendar.