Corvette Museum to Integrate Sinkhole Into Exhibit
Friday, Jun 27, 2014 | Updated 7:57 AM CDT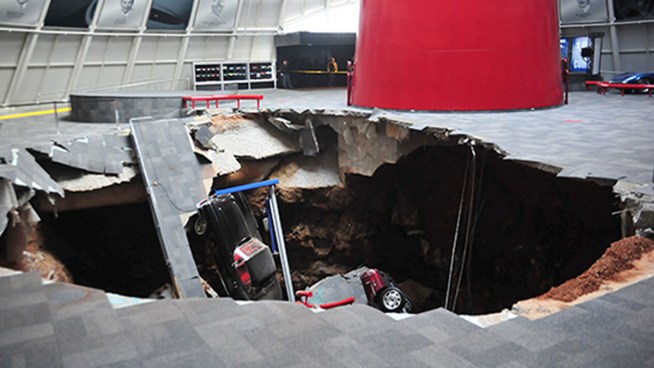 AP
In this image provided by the National Corvette Museum shows several cars that collapsed into a sinkhole Wednesday, Feb. 12, 2014, in Bowling Green, Ky. The museum said a total of eight cars were damaged when a sinkhole opened up early Wednesday morning inside the museum.
The massive sinkhole that swallowed prized sports cars at The National Corvette Museum has become such a popular attraction that officials now want to preserve it.
The museum in Bowling Green, Kentucky, will fill in part of the hole, but leave a portion of the cave accessible to visitors. The museum may also put two of the damaged cars back into the cave.
Attendance at the museum has jumped 59 percent and sales 65 percent since the sinkhole opened earlier this year and swallowed eight cars.
The cars impacted were:
1993 ZR-1 Spyder on loan from General Motors
2009 ZR1 "Blue Devil" on loan from General Motors
1962 Black Corvette
1984 PPG Pace Car
1992 White 1 Millionth Corvette
1993 Ruby Red 40th Anniversary Corvette
2001 Mallett Hammer Z06 Corvette
2009 White 1.5 Millionth Corvette