Texas A&M Ladies Basketball Praised by Obama
Obama hosted Women's NCAA Basketball Champion team at the White House
Thursday, Oct 13, 2011 | Updated 10:53 AM CDT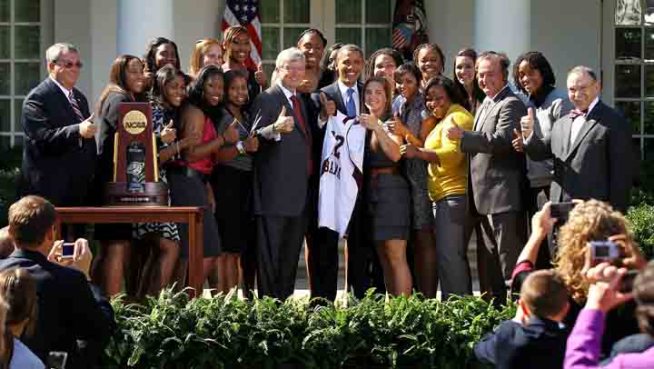 Getty Images
President Barack Obama (C) poses for a group picture with head coach Gary Blair (C-L) and other team members during a Rose Garden event to welcome the Texas A&M University Women's Basketball Team to the White House October 6, 2011 in Washington, DC. President Obama hosted the basketball team to honor their 2011 NCAA Championship.
President Barack Obama is praising Texas A&M University's NCAA champion women's basketball team for being role models to young girls -- including his two daughters, Sasha and Malia.
The president congratulated the team Thursday at the White House. Coach Gary Blair presented Obama with team jerseys for himself and the first lady.
Noting that Blair sometimes throws candy to the crowd during games, Obama joked that he might try the same tactic with members of Congress.
Obama also thanked the players for volunteering in their community. The team was holding a basketball clinic at the White House for Washington-area children. Obama said he expected the kids to be shooting three-pointers by the end of their workout.