Presidential Vibes for Next USA Match
Thursday, Jun 24, 2010 | Updated 9:15 PM CDT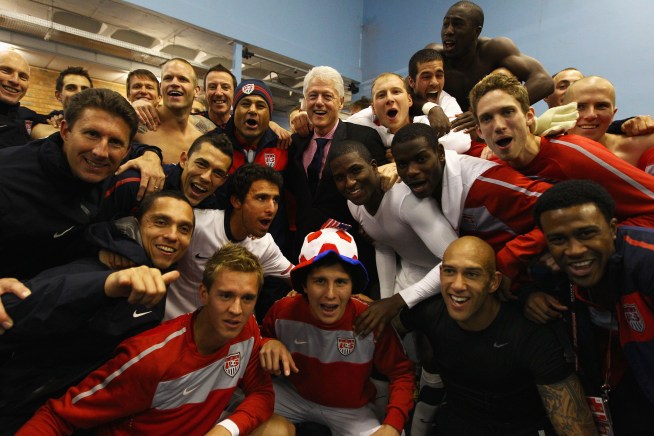 FIFA via Getty Images
Clinton, who is the honorary chair of U.S. World Cup bid committee, later met the jubilant players in their dressing room. "They said, 'Hang around until we finish all this and drink a beer with us. Nobody ever does that.' And so I said O.K. So I stayed for like an hour-and-a-half or something. It was amazing," Clinton said, according to Sports Illustrated.
Former President Bill Clinton liked what he saw from the U.S. team so much, he's staying for the next game. Clinton said Thursday he changed his itinerary in South Africa so he can attend the Americans' round of 16 game Saturday against Ghana in Rustenburg.
Clinton, the honorary chairman of the U.S. bid to host the World Cup in either 2018 or 2022, watched the Americans' thrilling victory over Algeria on Wednesday with FIFA president Sepp Blatter and U.S. Soccer president Sunil Gulati. He then visited with the team in the locker room.
Clinton said he managed to contain himself until Landon Donovan's game-winner in stoppage time. Then he cheered and celebrated so vigorously he had to drink hot tea with lemon for an hour just to get his voice back.