U.S. Women's Coach: Chu to Play in Hockey Semifinal
Julie Chu's coach said she's okay to play in the women's hockey semifinal on Monday.
Sunday, Feb 16, 2014 | Updated 9:02 AM CDT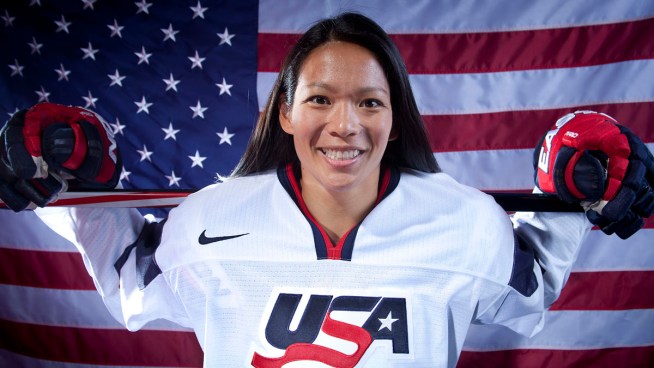 AP
In this Oct. 2, 2013, file photo, United States women's hockey player Julie Chu poses for a portrait at the 2013 Team USA Media Summit in Park City, Utah. At 31, she's the oldest member of the U.S. team, and she'll be heading to her fourth Olympics in search of her first gold, after already collecting two silvers and a bronze.
Julie Chu's injury isn't serious enough to keep her out of the U.S. women's hockey team's Olympic semifinal against Switzerland.
That's what coach Katey Stone said Sunday.
Chu was injured in practice on Saturday, leaving early while holding her left hand gingerly. She did not practice on Sunday, the second of two straight off-days, but she worked out and was seen walking alongside the rink holding a water bottle in her unbandaged left hand.
Chu has played in every Olympics since Salt Lake City. She wasn't made available to reporters but Stone said she'll be fine and ready for the game on Monday.
Stone said, quote, "Everybody that's a four-time Olympian got the day off today."
Stone also said Sunday that Jesse Vetter will start in goal for the semifinal.