Chinese Win Tainted Badminton Olympic Doubles Gold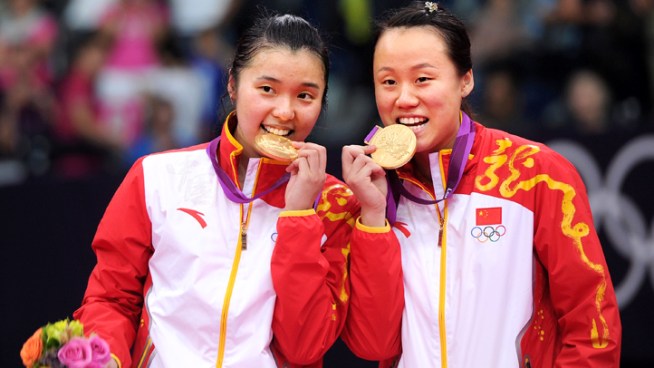 Getty Images
Yunlei Zhao (R) and Qing Tian of China stand on the podium with their Gold medals following their victory against Reika Kakiiwa and Mizuki Fujii of Japan during their Women's Doubles Badminton Gold Medal match on Day 8 of the London 2012 Olympic Games.
Tian Qing and Zhao Yunlei of China won the women's doubles gold medal in the scandal-marred badminton competition at the London Olympics.
Zhao, who won the mixed doubles gold on Friday, and Tian defeated Mizuki Fujii and Reika Kakiiwa of Japan 21-10, 25-23 on their fourth match point.
Four pairs, including the top-ranked Chinese team, were disqualified this week for trying to lose their group matches to rig the knockout draw.
Earlier, Russia's Valeria Sorokina and Nina Vislova won the bronze medal.