Ron Paul Returns to SC, Picks Up Key Endorsement
Ron Paul returned to the state Sunday after spending three days at home and off the trail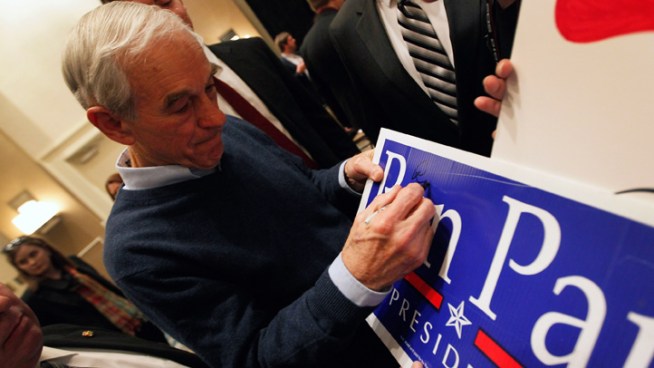 Getty Images
Republican presidential candidate U.S. Rep. Ron Paul (R-TX) autographs a sign as he greets people after speaking at a campaign stop at the Palisades Conference Center on January 15, 2012 in Myrtle Beach, South Carolina.
Rep. Ron Paul, who represents the 14th congressional district of Texas, has returned to South Carolina to pick up an endorsement from a state lawmaker popular with tea party activists.
State Sen. Tom Davis announced his support for the Texas congressman Sunday at a raucous rally in Myrtle Beach. Davis served as chief of staff to former Republican Gov. Mark Sanford and is considered a vocal fiscal conservative.
Paul placed second in the New Hampshire primary last week and third in Iowa's caucuses. He told supporters he expects to do well in South Carolina's January 21 primary.
Polls show Mitt Romney leading the field, in part because no single candidate has emerged as a clear alternative to the former Massachusetts governor.
Paul had been off the campaign trail since last Wednesday, resting and visiting family at home.