A Fort Worth police officer has been placed on restricted duty after he was seen on a viral Facebook video arresting a woman and her teenage daughter who said they had called for help, department officials said Thursday.
The video posted on Porsha Craver's Facebook page Wednesday night shows the incident she says happened near Hazel Harvey Peace Elementary in southwest Fort Worth.
In the video, a woman, identified as Jacqueline Craig, is heard telling the officer that a man grabbed and choked her 7-year-old son for littering and "defying him" when the child was ordered to pick up the paper.
The officer asks Craig, "Why don't you teach your son not to litter?"
Press Conference: FW Family in Viral Video Speaks Out
A Fort Worth family and their attorney speak to reporters after a video went viral showing a Fort Worth police officer arresting mother Jacqueline Craig and her teenage daughter who said they had called for help. (Published Thursday, Dec. 22, 2016)
The mother says the man can't prove her son littered, and noted that "it doesn't matter if he did or didn't, it doesn't give him the right to put his hands on him."
To which the officer responded, "Why not?"
The video then shows a girl NBC 5 was told is Craig's 15-year-old daughter stepping in.
The officer grabs her and things escalate into a physical struggle involving several people. The officer manhandles Craig and the 15-year-old to the ground and handcuffs them while pointing a Taser.
Witnesses can be heard shouting and cursing. Eventually the officer arrests a third person, Craig's 19-year-old daughter Brea Hymond, who was recording the video on her cell phone.
Fort Worth Police Investigate Now Viral Video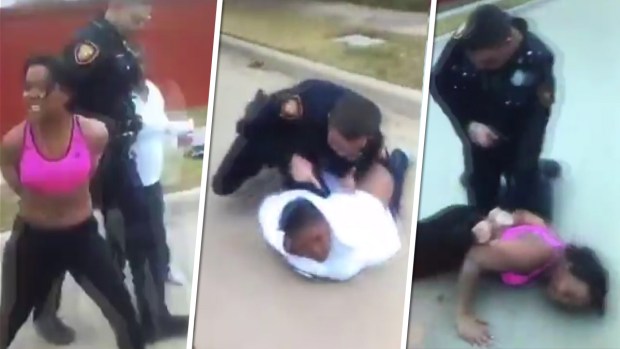 Fort Worth Police have put a police officer on restricted duty and launched an internal affairs investigation after a viral video showed the officer's interaction with a woman who called police to report a man grabbed and choked her 7-year-old son. The incident ends with three women arrested. (Published Thursday, Dec. 22, 2016)
Lee Merritt, the attorney for the women, questions why his clients were arrested while the man accused of choking a child was not.
"The idea that this complaint has gone uninvestigated is a civil rights violation of my clients, it's irresponsible for the city of Fort Worth," said Merritt.
Merritt says he and his clients are asking for four things: all charges leveled against his clients after the incident dismissed, the person responsible for touching Craig's child arrested and charged, the officer fired and the officer prosecuted.
Both women had been released from custody by Thursday afternoon.
"I'm very distraught, because what I felt I was doing was actually protecting my child and it didn't happen," said Jacqueline Craig said Thursday evening after her release from jail. "It made me feel less of a parent because I couldn't protect him when he needed it."
Craig went on to say she'll teach her children not to lose faith, because with police officers, as with all human beings, "you have some good and some bad."
Fort Worth Police are continuing to investigate both the officer and the initial incident. A spokesperson told NBC5 there are contradicting stories about what happened to the 7-year-old child.
A report was filed detailing the incident but police say it did not document any choking.
The Fort Worth Police Department released the following statement about the incident Thursday afternoon:
"On Dec. 21, at approximately 10 p.m., the Fort Worth Police Department received information regarding a Facebook video post that captured a Fort Worth police officer arresting three individuals on Rock Garden Trail.
The Internal Affairs Unit began to immediately review the video and subsequently initiated an internal affairs investigation. The investigators interviewed two of the three arrestees at the Fort Worth City Jail within two hours of the department learning of the incident.
The investigators worked throughout the night and into the morning interviewing witnesses and reviewing video evidence; including video from a body worn camera that was active during the incident.
The involved officer has been placed on restricted duty status by the Chief of Police pending the outcome of the internal investigation. Since this is an internal investigation, state law limits the information that may be released, including the officer's body cam footage.
The Fort Worth Police Department enjoys a close and cooperative relationship with our citizens; one of transparency, mutual trust and respect. The Fort Worth Police Department expects every officer to treat persons they encounter with that same trust, respect and courtesy.
We acknowledge that the initial appearance of the video may raise serious questions. We ask that our investigators are given the time and opportunity to thoroughly examine this incident and to submit their findings. This process may take time, but the integrity of the investigation rests upon the ability of the investigators to document facts and to accurately evaluate the size and scope of what transpired. We ask our community for patience and calm during this investigation process."
NBC 5's Alice Barr reports internal affairs officers were canvassing the neighborhood Thursday afternoon, speaking to the man involved in the initial incident as well as any witnesses.
The head of the American Civil Liberties Union of Texas said in a statement Thursday that she's disappointed the officer is being given 48 hours to prepare a report on the incident:
"We regret that the FWPD is giving the officer 48 hours to prepare his report on the incident. That leaves us with only the video on which to rely for information.
When the mother of a seven-year-old boy calls the police to report an assault on her son, the responding officer should expect to find her distraught. In this instance, the officer ignored basic community policing standards and his own responsibility to de-escalate the confrontation.
This incident and countless others like them demonstrate that for people of color, showing anything less than absolute deference to police officers — regardless of the circumstances — can have unjust and often tragic consequences.
This fundamental injustice is also a threat to public safety. If a Black woman in Fort Worth can't call the cops after her son is allegedly choked by a neighbor without getting arrested, why would she ever call the cops again?"
.@fortworthpd Internal Affairs investigators canvassing for witnesses around neighborhood where women were arrested in viral video @NBCDFWpic.twitter.com/U5u0XsqqOy

— Alice Barr (@AliceBarrNBC5) December 22, 2016
As of 4 p.m. Thursday, the video had been viewed nearly two million times.
While there is a blip in the video, Merritt told NBC 5 the video was not edited, someone called while they were recording and it temporarily interrupted the feed.
Protesters Call for Fort Worth Officer to be Fired
About 150 protesters gathered on the steps of the old Tarrant County courthouse to speak out against the officer and to speak up for the Craig family. (Published Thursday, Dec. 22, 2016)
Protesters Call for Officer to be Fired
About 150 protesters gathered on the steps of the old Tarrant County courthouse Thursday evening to speak out against the officer and to speak up for the Craig family.
"We do not want this officer to resign. We want him terminated. We want the white gentleman that assaulted that 7-year-old child charged with assault," said Dominique Alexander, founder of the Next Generation Action Network.
Protesters were outraged by the conduct of the officer in the video. They called on Fort Worth Mayor Betsy Price and city leaders to take further action against the officer.
"It's time for Mayor Price and all these other people that run the city to get out from behind that desk and come out in the street. I'm not talking about in Saginaw, where they think they're safe, I'm talking about neighborhoods where I grew up. Act like they matter."
The Craig family made an appearance at the protest, but left shortly after, when protesters began shouting at each other.
"If you're going to protest, or whatever, let's make sure that it effective, let's do it in an effective manner. Let's make sure that we're getting the word out there to the proper individuals, so therefore we can get the change that we're needing in this community," Craig's brother Roderick Smith previously said.
NBC 5's Brian Roth, Tim Ciesco, Alice Barr and Cory Smith contributed to this report.
Published at 2:33 PM CST on Dec 22, 2016 | Updated at 3:55 PM CST on Dec 28, 2016