Texas Town Repairs 6-Year-Old Hurricane Damage
Monday, Feb 17, 2014 | Updated 11:00 AM CDT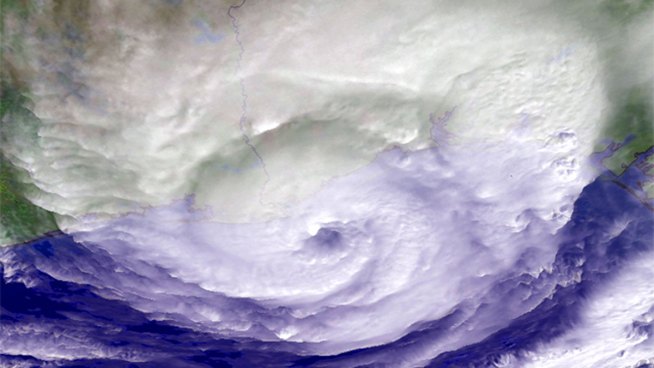 Getty Images
In this satellite image provided by the National Oceanic and Atmospheric Administration, Hurricane Dolly makes landfall as it moves west-northwest near the Texas-Mexico border at 15:15 GMT July 23, 2008. Forecasters at the National Hurricane Center in Miami have issued a hurricane warning for the coast of Texas from Brownsville to Corpus Christi and have advised people to protect life and property as Hurricane Dolly continues to gain strength. Maximum sustained winds have increased to nearly 100 mph, and has just been upgraded to a Category 2 hurricane. Hundreds of area Brownsville, TX residents have made their way to public shelters as the eye of the storm closes in on the coast.
A South Texas town is contracting engineers to overhaul a water treatment system damaged six years ago when Hurricane Dolly slammed the community.
The McAllen Monitor reports that Donna city leaders have approved using federal funds to help pay for the repairs.
City Manager Oscar Ramirez said that although extensive repairs are needed, the treatment plant is up and running and water quality has not been impacted.
Most of the issues began after the 2008 hurricane inflicted heavy water damage on the treatment plant. Initially the Federal Emergency Management Agency awarded the city nearly $500,000 to repair the plant. Now the city is asking for another $1.2 million to complete the work.
Finance Director David Vasquez said federal officials have already toured the plant to reassess the damage.