Some Travelers Delayed Following Midwest Blizzard
Friday, Dec 21, 2012 | Updated 8:42 AM CDT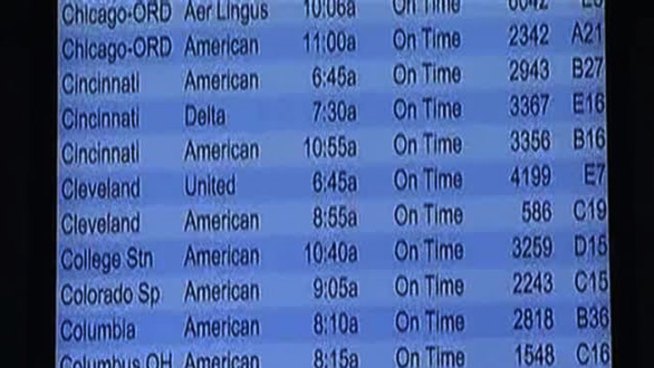 Mark Schnyder, NBC 5 News
Airlines are monitoring a winter blast that's blanketing the Midwest. Some DFW flights were canceled on Thursday and flight delays continue to pop up Friday as the storms continue.
Travelers heading out this weekend to start the holidays face some cancellations and flight delays as conditions improve following a Midwest blizzard.
Airports in the Philadelphia and New York areas reported weather-related flight delays Friday morning. The Federal Aviation Administration says flights at Newark Liberty International Airport were delayed an average three hours.
American Airlines on Friday reported 21 flight cancelations due to weather. Spokeswoman Dori Alvarez says American Airlines had a dozen flight canceled and its American Eagle unit had nine cancellations.
Alvarez says the Fort Worth-based carrier on Thursday canceled 99 American Airlines flights and 214 American Eagle flights.
Dallas-based Southwest Airlines canceled nearly 260 flights since Thursday but said operations were returning to normal Friday.