Armed Man Kills Self in Standoff With Dallas SWAT
Man opens fire on Dallas SWAT, kills self, police say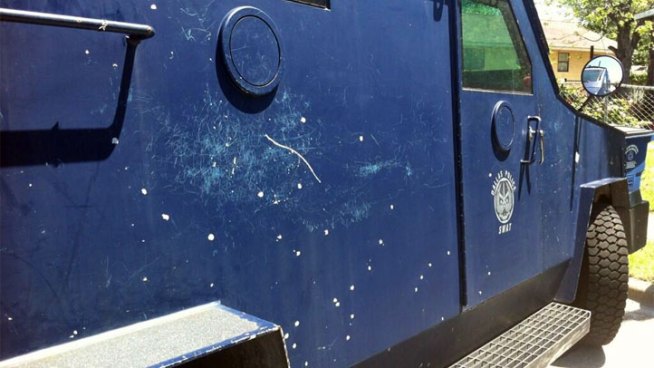 Dallas Police Department
Dallas police tweeted the picture above, showing where bullets struck a SWAT vehicle during a standoff Monday.
A standoff with Dallas SWAT officers ended Monday with a barricaded man turning the gun on himself, police say.
Officers were called to the 5400 block of Singleton Boulevard after a fight where one person was struck with a gun late Sunday.
The victim, and a witness to the assault, left the home Monday morning. The victim was treated and released from the scene, but the man's attacker remained barricaded inside the home.
After several hours, and after opening fire on a police SWAT vehicle, officials said the barricaded man fatally shot himself.
Police tweeted the following message Monday afternoon and said no officers were injured.
The barricaded man's name has not yet been released.
Check back and refresh this page for the latest update.