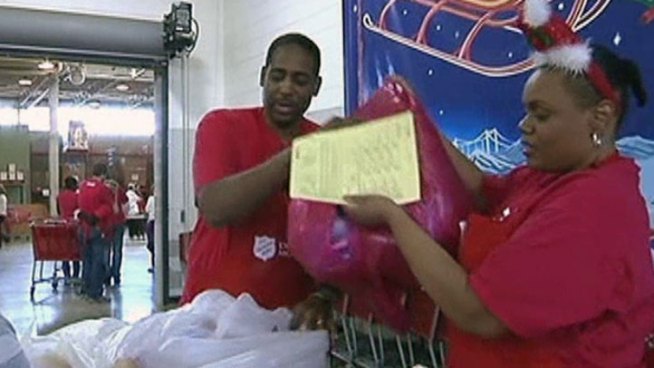 Andres Gutierrez, NBC 5 News
Thanks to you North Texas, 58-thousand wishes came true this holiday season
Dozens of Salvation Army volunteers spent Saturday handing out gifts donated through the Salvation Army, NBC 5 Angel Tree program.
"Everyone has been very gracious and just very happy. We had one lady--she was in tears," said Dee Armstrong, a Salvation Army volunteer.
For the parents picking up the gifts Saturday, happiness and graciousness is an understatement.
As a mother of four children, Misty Wilson recently moved to Dallas. With her husband in and out jobs making ends meet is tough. As a result, gifts at Christmas time are a luxury.
"They don't really get anything," Wilson said. "It's my daughter's first Christmas as well and I wanted it to be a little bit happier for her."
And it will be. Beyond the pickup tables many people do not get to see the shelves stacked high with gifts all because of NBC 5 viewers who participated in this year's Angel Tree program.
"Just to know that these kids will wake up and have gifts under the tree; just warms your heart," Armstrong said.
The Salvation Army will be handing out gifts until Thursday Dec. 20. The non-profit still needs more volunteers to help with distribution.
NBC 5 is a proud sponsor of the Salvation Army Angel Tree program. 58-thousand seniors and children received gifts because of the generosity of North Texas.