Report: Jobs Are Available, But No One Wants Them
Job-seekers want specific jobs with good pay, hours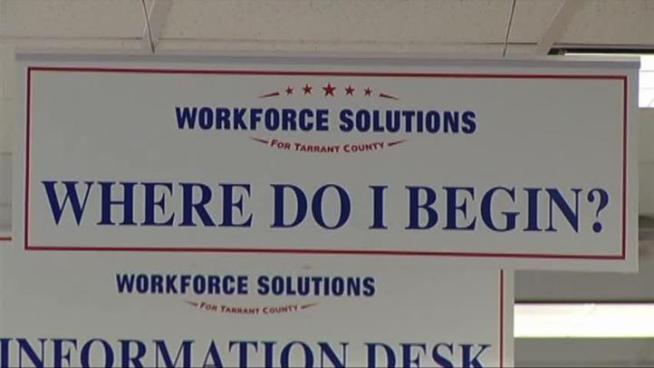 Keaton Fox, NBC 5 Reporter
A new report shows there are more jobs becoming available -- but job-seekers are avoiding those they feel don't pay well enough for what they're asked to do.
It's a problem that could have the economy hanging in the balance. There are jobs, a lot of them, that no one wants. Jobs like machinists and steel workers.

On the other hand, there are plenty of job-seekers who say they can't get hired. Job seekers like Michael Barnett who has been unemployed for about a year.
"It's not easy," Barnett said. "It's just not easy."

Barnett was a warehouse worker and a truck driver, but now can't land anything he said he can accept.

"I get offers, but they're not worth anything," Barnett said.

Karmin Allison's in the same boat. Laid off over a year ago, she says now if she wants a job she'll have to do a lot more for a lot less.

"They want to pay definitely less," Barnett said. "They want you to do a lot of work for nothing. They want the young, fresh, and new people. I'm 50 years old, so it's like me starting all over."

The problem isn't just with job-seekers. Companies across the country are having trouble filling empty positions. According to a report by the Bureau of Labor Statistics, there are jobs but no one wants them.

"Jobs are out there," said Jennifer Watson, recruitment and placement specialist for Texas Workforce Solutions. "Employers are paying, in some situations paying less than what they were before and so some some job seekers shy away from that and want to get back to what they were being paid in the past."

Watson said with higher unemployment, there's more competition for the good jobs and that means companies can offer less and expect more.

In the meantime, guys like Michael are hitting the pavement looking for jobs that work for them.

"Sooner or later, something will pop up," Barnett said. "I won't just give up."

You can find Texas job listings with Workforce Solutions at WorkInTexas.com