Jamal Adams was born to play in the NFL.
The former LSU safety and North Texas native will hear his name called early in the first round of the upcoming NFL draft and he has the physical traits and abilities to quickly become a star.
But before there was Jamal Adams, there was George Adams.
George Adams was also a stud player at an SEC school. In 1984, the Kentucky running back rushed for 1,085 yards and scored a conference-leading 14 touchdowns.
The New York Giants picked George Adams 19th overall in the 1985 draft. He spent six years in the NFL with the Giants and New England Patriots, gaining 1,900 yards from scrimmage and scoring 7 touchdowns.
George and Michelle Adams settled in Lewisville and welcomed Jamal into the world in 1995.
"I'm very thankful to have two great parents," Jamal Adams said. "I come from a great home."
The family moved to Carrollton where Jamal grew into one of the country's top safeties for Hebron High School. He also scored 20 touchdowns as a running back. After high school, the 5-star recruit went where all the good defensive back recruits go, LSU.
Jamal made an impact quickly for the Tigers, starting 2 games and appearing in 11 more as a true freshman. He accounted for 66 tackles, 5 tackles for loss and 5 passes defended, earning freshman All-America honors.
The younger Adams became the starter at safety in 2015. In two seasons in that role, he intercepted 5 passes, forced two fumbles and added 143 tackles and 10 passes defended on his way to consecutive all-conference selections.
Newy Scruggs, Pat Doney Break Down Jamal Adams' Draft Stock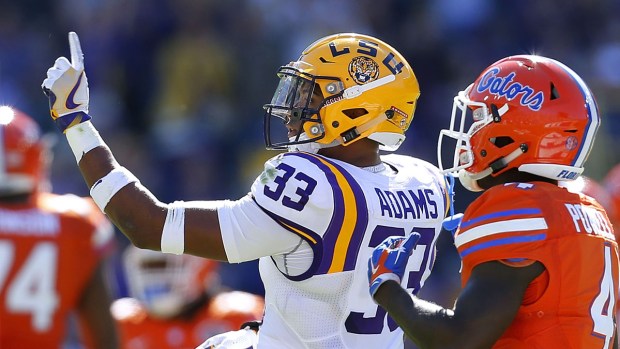 Jamal Adams' combination of athleticism and college production already have the NFL drooling. His bloodlines are the icing on the cake.
"[My dad's] ideas of teaching me the ropes and giving me any advice, I can't thank him enough for it," he said. "He keeps me grounded and always working hard."
Jamal leans on his dad now, but he'll likely surpass his draft slot soon. The younger Adams is expected to be selected as high as No. 3 overall April 27.
Published at 6:39 AM CDT on Apr 20, 2017 | Updated at 8:26 AM CDT on Apr 24, 2017